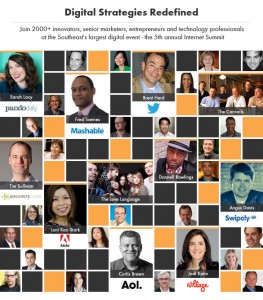 We apologize that due to reduced wifi capabilities at the conference, our live blogs will be delayed
A crew from Virante will be live blogging most of the public sessions at this year's Internet Summit in Raleigh NC, November 7 and 8, 2012.
Posts will be in note-taking style and will be updated in real time, so be sure to visit during topics you're interested in and then refresh the post frequently to follow the presentation.
Here's our anticipated coverage (dependent on Internet availability). If a title is linked, it is either live or completed.
Coverage by Mark Traphagen:
Wednesday
10:30 Social Media Targeting and Measurement
12:00 Emerging Social Trends, Tools & Technologies
3:00 Social Media Trends
4:40 Online Video & Social TV
Thursday
8:00 Mobile Appps and Engagement
9:20 SoLoMo
10:40 Twitter Brings You Closer – Brent Herd
1:40 Facebook & Twitter Marketing
3:00 Advanced SEO
4:20 Content Strategy
Coverage by Phil Buckley:
Wednesday
3:00 Usability & Experience
4:40 Security
Thursday
8:00 Inside the Data Center
10:40 Designing and Optimizing for Multiple Screens
1:40 The Tablet Revolution
Coverage by Dan Speicher:
Wednesday
1:30 Keynote Media Panel
3:00 Cloud and Virtualization
Thursday
8:00 E-Commerce Trends
9:20 Gamification
4:20 Internet Entreprenuership
Coverage by Matt Zaffina:
Wednesday
4:40 Mobile & Location Marketing
Thursday
12:00 Lunch Keynote
1:40 Featured Speakers
3:00 Social Measurement
4:20 Mobile Business
Coverage by Nina Martinez
Wednesday
3:00 Increasing ROI panel
Thursday
1:40 Digital Advertising Strategies
Coverage by Elliott Koppel
Thursday
10:40 Web Analytics and Performance
Coverage by Emily Clement
Wednesday
4:40 CMO Roundtable
Thursday
9:20 Email Marketing
10:40 CIO Roundtable