There's a new Google Maps coming. Google is rolling out a complete overhaul of the look and feel of its popular browser-based mapping program. Everything is designed to be more intuitive and one-click away.
I applied to preview the new Google Maps interface ahead of public roll out, and got accepted within 24 hours. Here's what I discovered as new on my first tour:
New Google Maps Smart Search Box
The first thing that strikes you about the new Google Maps is the "full bleed" map display. The map now goes edge-to-edge, filling all of your browser window. The new search box is on a small card overlaying the map at upper left.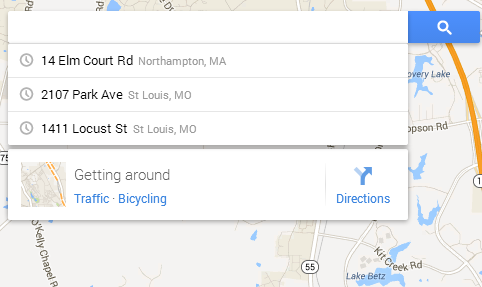 The search box has several features:
Most recent searches displayed

Directions
Transit, traffic, and bicycling info (where available)
Local Business Results on the Map
Another major change is how local business listings appear. Gone is the left hand ordered list of results. Now results appear as icons and names right in place on the map itself. If your search was specific, such as "sushi in Boston MA," the most relevant results will appear as larger icons and titles.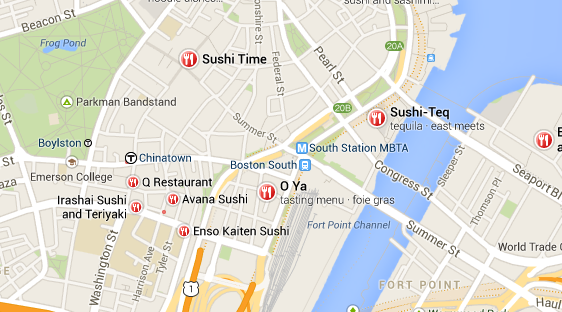 This has profound implications for local business SEO. Gone completely is the rush to "rank" in the top results for any map search. Now the key is "relevancy" to the query, which means you should place a priority on optimizing your Google+ Local Page.
New Local Info Cards
Clicking on any local business icon on the map brings up its Info Card, with address, directions link, and phone number at the top. You can "save" or "star" the item, which saves it to My Places. (A note in the help files states that My Places is not yet implemented as a direct access item in the new Maps, but that starred items will be used to help influence your results when searching while logged in to your Google account.)
At the bottom of the info card are the Google+ Local star ratings, and links to reviews and other information, such as menus.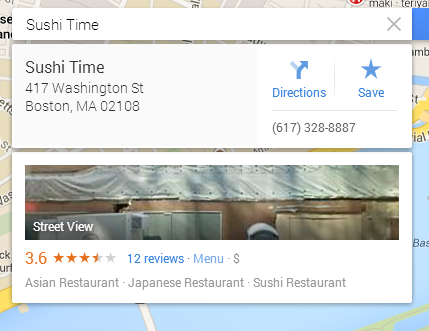 New Full Bleed Street View
A preview of the Street View for the location (if available), along with any available uploaded photos, is shown on the Info Card. Clicking the Street View preview image jumps you straight to a spectacular full-window street view experience.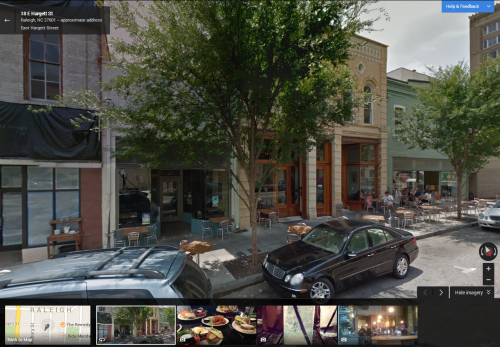 A "carousel" across the bottom of the street view gives access to user-generated photos from nearby (photos uploaded to Google Local or Panoramio). Clicking the map in the filmstrip returns you to map view. The Street View controls are now at lower right. The image carousel can also be accessed in regular map view via an icon at lower right.

Goodbye Satellite – Hello Google Earth
Google Earth is now fully integrated into Google Maps. Thus you will no longer find a "Satellite" view option. Instead, clicking the Earth icon at lower left jumps you to a full-window overhead view of the current map location.

Controls at lower right allow you to zoom in and then tilt the view, for the familiar Google Earth "in flight" view, including 3D buildings where available.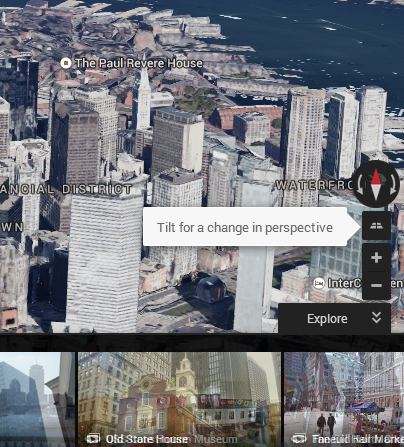 Click-on-Map Address Information
Click at any point on any street in the new Google Maps and a small Info Card appears with the nearest street address to that point, a directions link, and Street View access. This should be incredibly useful as the user can now just "point and shoot" to get directions to any location on the map, without having to know an address to type in first.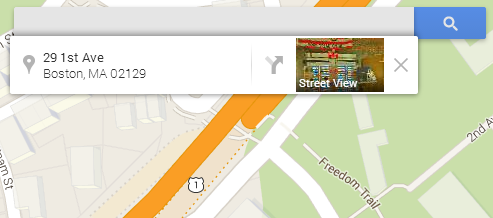 Missing in Action?
At least two features of the old Google Maps are MIA so far:
My Places (although the help pages seem to imply that this will be added back in eventually

Grab a link (which used to let you grab a shortened link for any map location that could be easily shared with others)