What is Google Authorship? What is Author Rank? Why should you use Authorship?
From SMX West, 12 March 2013.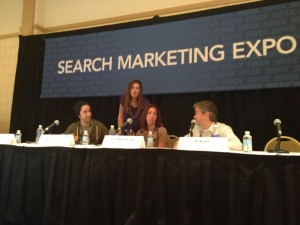 Panelists:
(There was another panelist, but I decided to just blog those directly talking about Google Authorship)
Mike Arnesen: A Journey to Quality Search Results
So much content has been created just for marketing or SEO it renders some search results unusable. Sometimes they seem like a lost cause. Search should feel like home.
Othar Hansson of Google Authorship: "Great content comes from great authors, and we're looking closely at ways this markup could help us spotlight their great content."
Authorship's background isn't new. It's about trust, value, and relationships.
Good content has traditionally been hard to identify. Algorithmic changes have gone a long way to stop spammers. But that's not enough. We want to positively connect with real people creating really good stuff.
In 2011 Google started showing human faces in search results: Google Authorship. If highlighting authority is good, rewarding authority is GREAT. Google+ is your content signature online.
Google Trends shows that Authorship and AuthorRank are picking up in peoples' interests. So are YOU ready to become an author?
You want to establish a reciprocating connection between your Contributor To section of your Google+ profile to all your content online, with a link back with the rel=author tag.
How to Connect Your Content to Authorship (Guide)
How can you build Author Rank? There are no shortcuts.
From the patents they are looking at how often and frequenlty your content is shared, who shares it, and many other engagement factors. Be an expert and share your content where people can see it.
Author Rank shouldn't replace traditional rankings; it will make them better. AJ Kohn said this could be bigger than all the updates put together.
Bad Idea: AuthorLinks – a scheme to sell links from supposedly "high authority" authors.
Some strategies:
Look at Wikipedia and Knowledge Graph and their notability guidelines. Shoot for those goals.

In 2005 Google filed a patent for Agent Rank, an idea for being able to rank content creators for their highly-regarded content. The next step was an identity service: Google+.

Do some real life networking. Speak at conferences and meetups.
Use Followerwonk to find experts you should have a relationship with.
Use Google+ Ripples to find who has been sharing your content.
What about companies or publishers? Authorship is for individuals. Rel=publisher connection to G0ogle+ Brand Page.
Authorship is about people, and it's a powerful tool. We can become the experts that our users want to trust.
Use it wisely; use it well!
AJ Kohn: The But and What If of Authorship and Author Rank
"Buts…buts everywhere!" "What if?"
Can anyone be an author? It is NOT a "pilot program." Anyone can utilize authorship, but if you have crappy stuff that doesn't get shared, it won't show up in the SERPs. Use Fetch as Googlebot in Webmaster Tools to get crawled after applying.
Does old content qualify? Absolutely!
Can any content be "authored"? NO! Not everything deserves to have authorship. Product descriptions? NO! In the future, though, reviews may be eligible for Authorship, or comments.
What about ghost writers? You can do it. But think of Cyrano. Didn't work out for him in building real value.
Do I have to do Authorship? Yes. Keep calm and stop whining . 1999: Do I have to have a website?
Can you have co-authors? Not yet. They might still see it, but you won't get a dual authorship snippet.
What happens if an author leaves? It makes sense to keep authorship intact, for both the writer and the publisher. What if someone wants to give you the virtual finger (you parted poorly)?
Can you change authors? Sorta kinda. It's been done. But possibility that Google might ban the practice at some point. But what if you have to (because of a bad parting)? The content should be materially changed and updated by the new author.
What does Authorship really do?
Disrupts search results with higher CTR. 

The "bounce back" result. If someone clicks your author result and stays on the page for a minute or more, then goes back to the SERPs, more links from that author will appear. (AJ showed Jon Colman getting one of these for a Slideshare post, even though you can't do Authorship on Slideshare!)
Ability to search by author by clicking their byline on an Authorship SERP. (Author: doesn't work for this)
How do I know if it's working?
Authors Stats in Google Webmaster Tools

Welcome letter from Google (comes randomly)
Structured Data Testing Tool (beware, it is sometimes wrong.) Here's AJ's Structured Data Testing Tool Bookmarklet. It allows you to test Authorship on any web page with one click!
Authorship is a brittle markup. Don't panic if it "breaks" for a short time.
What about Bing? Bing has "tags." AJ is not impressed. You can tag people with pages. Easy to prank. They've also partnered with Klout. But there is no way to take advantage of this.
What is Author Rank?
NOT the same as Authorship!
100% NOT a direct ranking signal yet.
So is it going to happen? They said it in the original launch announcement. There have been other statements, such as by Eric Schmidt about the value of knowing identities of authors. Google+ is fundamentally an identity engine.
What about anonymity? AJ thinks it's not bad that anonymity is being discouraged in most cases. You wouldn't get surgery from SuperDoc887.
What about Brands? Idea that mentioning someone from a brand page could have an affect.
What if AR never happens? It doesn't matter. Authorship alone is enough, giving you personal branding and increasing your CTR.