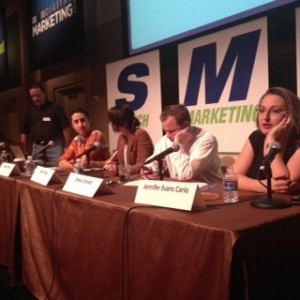 A live blog from SMX Social Media in Las Vegas, December 2012
Jennifer Evans Carlo – President, SugarSpun Marketing (@JenniferCario)
It's not a blog without social media. Without that, people are blowing their blogs away. Think one brand – many homes.
Don't miss the forest for the trees. Ask which channels can best support my site and blogging efforts. Your social media sites are channels, not destinations.
Social media delivers traffic (emotionally invested), delivers links, delivers conversions (including all the micro-conversions that eventually lead to the sale), and delivers credibility. Your blog offers better analytics, and control over where traffic and links are going.
Your entire social media strategy should center around your blog. Use social media to create touch points that lead toward your own site.
Why focus on your blog then? Only place where you can put up any type of content you want, and you can have a direct call to action to your conversion point. Subscriptions belong to you forever.
Use social media as the touch points to find people where they are and bring them to your blog. Smarty Had a Party does this well. They use Facebook posts as teasers to fuller content on the blog, which contains conversion call to action.
Trends don't control your blog; you do!
Mike Arnesen – Senior SEO Analyst, SwellPath (@mike_arnesen)
Blogging is not only a great ego booster, it also helps you formulate and improve your own ideas.
Blogging takes Creativity, Passion and Time.
8 Takeaways from a journey to successful blogging:
1. Blog frequently and on schedule. Not only good for real people but for the search engines.
2. Incentivize your team to write posts.
3. Let your audience do the work. Always be looking for ideas from your audience. Questions are great sources for blog post ideas. Check Quora, Reddit, comments on your blog, competitor's blogs, forums.
4. Find and exploit search engine opportunity gaps. Use Google's auto-suggest to find long tail topics people are searching for. Click one and look at the quality of the results. If others aren't capitalizing well on the phrase, that's a space for you to capture.
5 Leverage Google Authorship.
6. Optimize your metadata.
a. Title
b. Description
c. OG:image (for FB and Google+)
7. Include fast action social sharing buttons.
8. Recognize the power of the +1. Often can rank posts well before they have any backlinks with a good number of +1s.
Sarah Evans – Chief Evangelist, Tracky (@prsarahevans)
Blogging collaboration and workflow.
You must have a centralized platform for collaboration.
PLAN
– Establish roles (content producer, editor, etc.)
– Monthly, weekly, daily lists
– Deadlines
– Promotional toolkit (a list of what you do to drive people to your posts)
– Keywords
– Timing (relevance and share). Set up scheduled reshares too for evergreen content.
– Monitor: find out what does well and what doesn't.
RESEARCH
– International and national headlines, localize the story. Set alerts with IFTT.com
– Holidays, observances
– Customer or brand lifecycle
– Conferences, media events
– Google Trends
– Company milestones, human interest stories
– Add top newsrooms to your phone
– Keep Twitter lists of top media and influencers.
Ideation Station
– A place where everyone on the team can submit ideas or germs of ideas. Record guest post opportunities. Her company sometimes grabs a theme for a week and posts a different type of content around that theme each day of that week.
SHARE
– Define and execute the best sharing tactics for your industry
– Stellar sharing tactics = better search and social visibility
– REMEMBER: Everything you do should support and drive your brand, traffic, and keywords.
K.I.S.S.
– Identify key times to tweet (use Tweriod).
– Schedule posts to go out at time you're most likely to reach audience (Buffer)
The Perfect Tweet
Rule of 60 – first 60 characters most likely to be read.
Keywords + timing + link
RESPOND, MONITOR, ITERATE
– Living content, launch your response matrix (someone responsibie for listening for responses)
– Record trends and content that resonated well
– Implement what you learned the following week.
Drew Conrad – Social Media Marketing Specialist, Zagg (@drewconrad)
Benefits of a Blog
– Content for social channels
– Content for email – 82% higher click-to-open rate for "best posts of the month" emails
– SEO value
– Links to posts
– Internal linking
– Engage customers
– Establish brand
Don't need great content – need content that solves the audience's problems (and is sharable!) – Dan Bischoff
END OF PRESENTATIONS