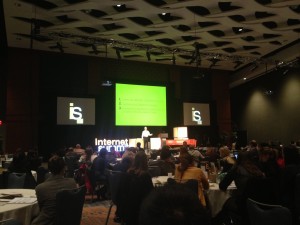 3 Steps to a Better Go-to-Market Content Strategy
Shade Wilson – Principle & Brand Strategist, Scalability Project
Start with one simple truth: All buyers are not the same. It's about attitude more than age or other demographics.
Product adoption curve goes all the way back to 1950s, to explain farmers buying seed corn. Still applies today.
Innovators
Early Adopters
Early Majority
Late Majority (social proof: who else likes it?)
Laggards (it's a fad)
3 Stages of a Launch
1. Learn how
2. See how
3. Don't miss out.
Learn how: very formative stage of content strategy. Gradually bring in previews, testimonials from beta users, development updates.
See how: Product is live. How do we get momentum going? Content: proof sources, pragmatics. White papers, webinars.
Don't miss out:  Success stories, updates & improvements. Use testimonials, customer reviews, case studies.
Three things to remember:
Buyers are different – treat them that way
Segment your content and message
Leverage this segmented content to reach prospects who are ready to listen
Content Marketing Best Practices
Chris Emme – Vice President, Radium One
"Content is the lifeline of the social ecosystem." – Michael Brito
Earned media is facilitating your fans and putting a bullhorn in their hands to cheer for you.
Content marketing is proving its capacity to:
Generate earned media
Build brands
Increase social interactions
96% of marketers utilize social platforms to distribute their brand's content, up from 88% in 2011.
Important to:
understand audience
find good content writers
discover competitor's efforts
conduct kw research and analysis
create a content calendar
seek out distribution/syndication partners
include social media in your strategy
optimize sharing buttons on your site
Companies that blog 15 times or more per month on average get 5 times more traffic than sites that don't blog at all.
Content Challenges Facing Traditional Print Media in a Digital Age – Online and Off
Lisa Sorg – Editor, The Independent Weekly
Advertising is not as sustaining on the web as it was in print.
Used to be able to produce weekly content, now have to be daily, and all over social media as well. Tougher to stay focused and keep the story up front.
Time has to be very structured.
A small indy paper can't go behind a paywall. Could charge for archive, but huge job to create. Advertisers want good content around their ads. And good content is not free.
Their pitch to advertisers is the kind of people their content draws as readers.
Indy keeps a very thick wall between advertising and editorial, no pay to play.