After careful consideration, we've decided to decommission PandaRisk.com as a self-serve tool.  The Google Panda update targets low-quality websites identified using a machine learned algorithm.  At the time of launch, PandaRisk.com utilized the seed questions reportedly used in training Google's Panda Algorithm with user surveys of your website.   Unfortunately, this process left our analysis at the "beginning" of Google's Algorithm, and not at the end result.
While we found the surveys were very helpful to many of our customers, we felt that it would be best to provide our customers with a concise "take-away" of what we have learned from PandaRisk, and offer more customized services.  The Panda algorithm consumes a much larger data set than our surveys are able to provide, and we found that as this machine learned algorithm has evolved there is not a one-size-fits-all approach that can be taken.
Free Information!
Download our sample PandaRisk.com report with the takeaways and recommendations that you should implement to help insulate yourself from the updates.
Go In-Depth!
We have performed massive Panda audits on multi-million page websites, bringing them out of the Panda pits and back into Google's good graces. Reach out to our team for a complete assessment starting at $2500!
What is Google Panda?
The Google Panda Algorithm is a machine-learned filter for low quality content in Google Search results. PandaRisk.com provides you with a simple way to have real reviewers survey your site using some of the same types of training questions that were used to build the Panda algorithm in the first place.
HOW PANDA MACHINE LEARNING WORKS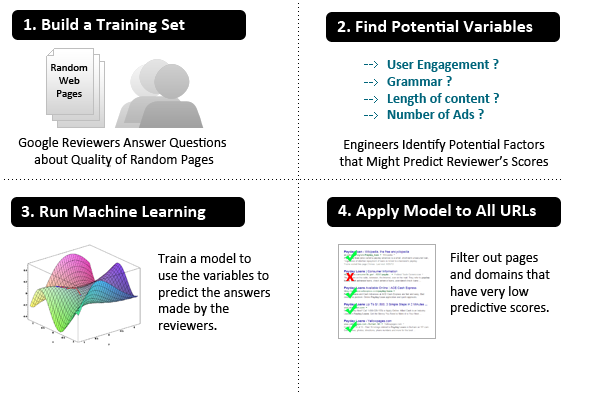 HOW PANDARISK.COM WORKED
We can't know the exact variables Google uses to make predictions for the Panda algorithm. However, we did know some of the questions they used in building their initial training set. By using 3rd party reviewers to answer these questions for your site, we could identify areas needing improvements to help prevent Panda penalties. For each area we provided best practices to boost your site's authority, trust, relevancy, and more.
Disclaimer: Using PandaRisk.com did not automatically insulate a website from Panda. It was intended to help identify areas known to increase your risk. We recommended hiring an expert to review any PandaRisk.com reports and assist with implementing recommendations.
What did PandaRisk.com Offer?
For $99, we provided unbiased reviewers & questions straight from Google's Panda surveys to identify areas where your site failed to deliver the authority demanded by the Panda algorithm.
2500 responses to your questions
Breakdown of 10 Key Panda questions
Recommendations on how to improve performance
What Was Included
PandaRisk.com ran in-depth surveys of your site on-the-fly, much like Google used to build their initial training data set for the machine learning algorithm known as Panda.

2500 Responses
We distributed questions about your pages to 2500 reviewers to determine the authority and trustworthiness of your content.

COMPARATIVE ANALYSIS
We provided both your raw percentage score and a relative analysis comparing you to industry leading sites like Wikipedia.

RECOMMENDATIONS
We provided examples of best practices to improve your performance in all areas, not just the ones you already do well in.
Your report was provided in a convenient PDF format so you could distribute it to important team members to deliver the message of how to beat Panda. Campaigns were normally completed within 1-2 hours from launch.
PDF DELIVERABLE
We don't influence the reviewers at all. They had no incentive to review your site positively or negatively, giving you unbiased, first-person results.
THIRD PARTY REVIEWERS
Conducting Panda surveys was just a matter of $99 and a few moments of your time. No programming, hiring, or managing necessary. Just set it and forget it.
UNPARALLELED CONVENIENCE
If you miss PandaRisk.com or have a cool idea on how we could bring it back and provide an amazing value to our customers, please let us know!