NOTICE!!! A small bug in the plugin has now been fixed and a new version was uploaded to WordPress. If you previously installed the plugin, please check your plugin dashboard for an update notice.
We're pleased to announce the availability of our FREE WordPress In-Depth Article markup plugin!
Our In-Depth Articles Generator plugin, once installed in your WordPress blog or site, will automate the schema markup of any of your posts or pages with the Schema.org Article markup properties recommended by Google to qualify your content for its new In-Depth Article search results feature.
What Are Google In-Depth Articles?
For an "in-depth" description, see my post "Google In-Depth Articles."
Google is now showing a special search result for selected topical searches that displays articles on that topic that go deeper than usual into the subject, and which appear on the sites of trusted publishers and are written by authoritative authors. A typical In-Depth Article result looks like this: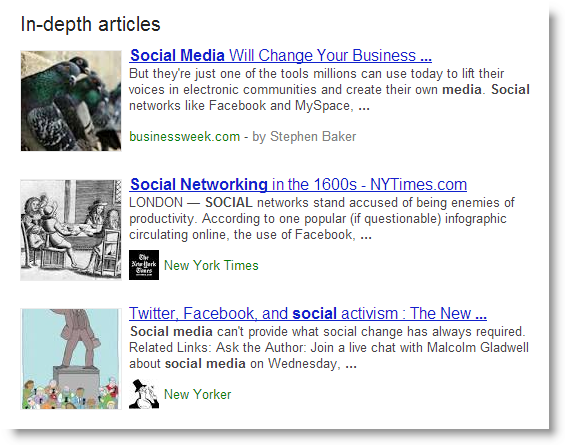 The results are usually displayed at the bottom of the first search results page, although there have been reports that it might sometimes show in the middle of the page.
How Does Content Qualify to Be an In-Depth Article?
According to Google, the best way to help them identify your content as a possible candidate for showing in an In-Depth Article box is to do any or all of the following:
Use schema.org article markup to identify the headline, altHeadline, main image, description, publication date, and article body of your in-depth content.
Use Authorship markup on the content.
For multi-page or multi-part articles, use proper rel=next, rel=prev and rel=canonical tags
Clearly identify your brand logo (either by linking to your Google+ Page or using organization markup).
Our new plugin is designed to help you with the first (schema article markup) qualification, which is the most difficult one. Typically, using such markup involves inserting code into the header and body of your posts. Our plugin makes coding unnecessary.
Using the In-Depth Articles Generator Plugin
1. Once the plugin is installed, your posts will have the necessary rel="article" for the Google In-Depth Articles feature placed automatically. In most cases, there's nothing else for you to do!
2. The plugin includes a dialog box which appears below the editing window in the WordPress post editor. This box allows you to customize three of the article schema markup properties:

Options:
Headline: Will use the text in your title tag if left empty.
Alternative Headline: Left blank if you put nothing here. Schema.org describes this attribute as "a secondary title for the creative work"
Description: A short description of your article that search engines may display in their search results. If left blank, your meta tag description will be used (if you've specified one).
That's it! Download the Virante In Depth Articles Generator plugin.
Related articles