Google today announced that  "In-depth Articles" are to be featured in Search.
The Official Google Webmaster Tools blog today announced that Google is beginning to roll out a new feature in Search (US first) that will highlight "in-depth articles" on certain broad topics. When someone searches for a person, thing, or general subject, Google's algorithm may now show them a special set-apart listing of several authoritative articles on the topic.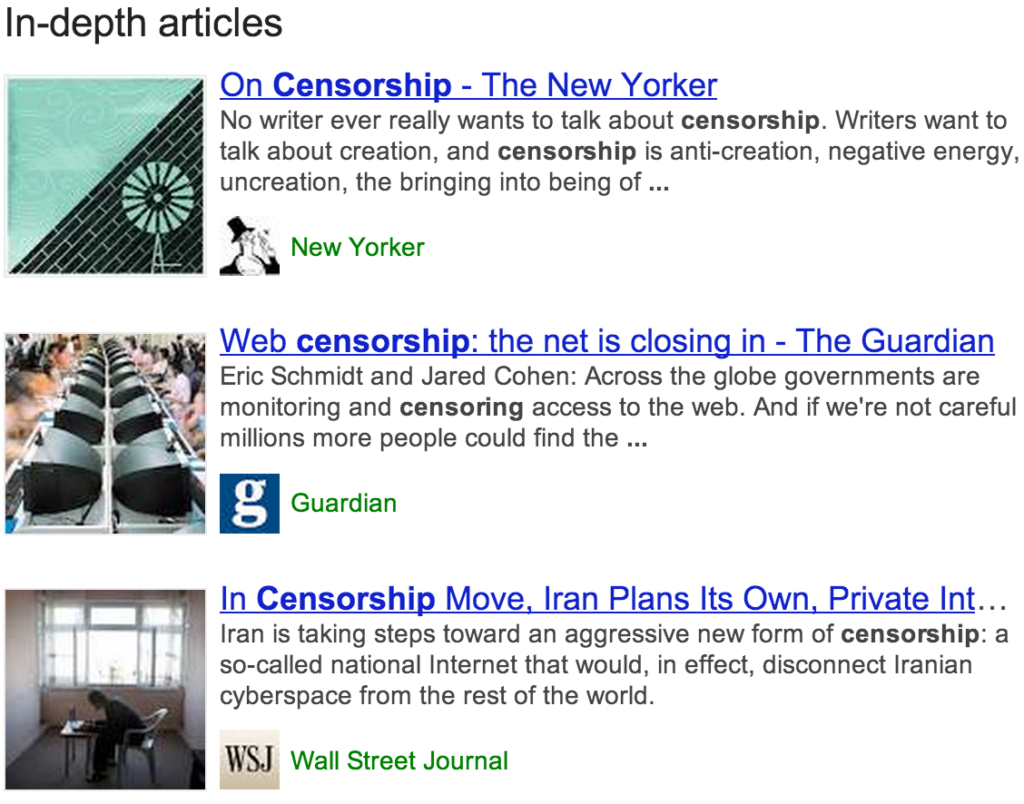 A new Google Help Page article offers guidelines to webmasters that will help them markup their best content in ways that will help Google to identify it as possibly qualifying to be shown in an in-depth article result. Suggestions include:
Use schema.org article markup to identify the headline, altHeadline, main image, description, publication date, and article body of your in-depth content.
Use Authorship markup on the content.
For multi-page or multi-part articles, use proper rel=next, rel=prev and rel=canonical tags
Clearly identify your brand logo (either by linking to your Google+ Page or using organization markup).
Authorship and rel=Publisher Take New Front Stage Roles
For someone like me very interested in Google Authorship , the buried headline in this help article is not only the fact that Google recommends using Authorship as part of the qualifications for "in-depth article" status, but what Google says about it:
Authorship markup helps our algorithms to find and present relevant authors and experts in Google search results.
I had to read that several times to believe it says what it says.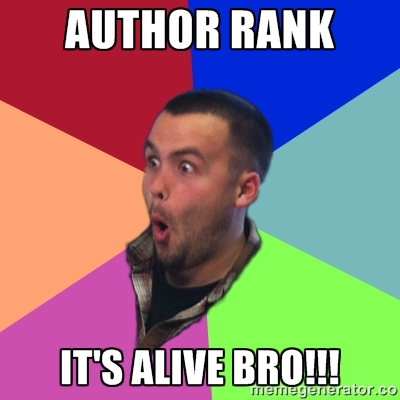 That is simply the most definitive statement we've had to date that Google is probably already beginning to use Authorship data as a measure of "relevancy" and authority. The fact that it is included as a recommended best practice for identifying "in-depth articles" seals the deal.
Authorship as a real factor in search results is here. It's now. The day has dawned.
Now I want to still express that with some caution. I'm not running through the hallways of Virante screaming "AUTHOR RANK!!! IT'S ALIVE!! IT'S ALIVE!!!" Not quite yet.
It very well may be that Google is just beginning to use a limited amount of this data, and perhaps only (at this point) for this in-depth article project. And it may only help (at this point) the very most authoritative authors in each topic area.
But make no mistake. Authorship and Author Rank are rising in importance. That much is no longer in any doubt.
Publisher connection has new importance as well. Authorship's weak step-brother, rel=publisher (i.e., a verified connection between your official site and Google+ brand page) takes on new importance as well with this update.
Google will use that connection to grab your brand logo (from your Page's profile image) to use with in-depth article results for your content. For one thing, that means more opportunity for brand recognition for you in the SERPs. But it also reinforces just how important your Google+ connections are to Google.
I've always maintained that the rel=publisher and page verification process was being used by Google to reinforce its trust in the official sites of brands, and beyond that to establish brand site topical authority. This new search feature is the first indication we have that that is exactly where Google is going.