If you have attempted to set up Google Authorship for your online content (here's how), you may have received a "Welcome to Google Authorship" email from Google that looks something like this: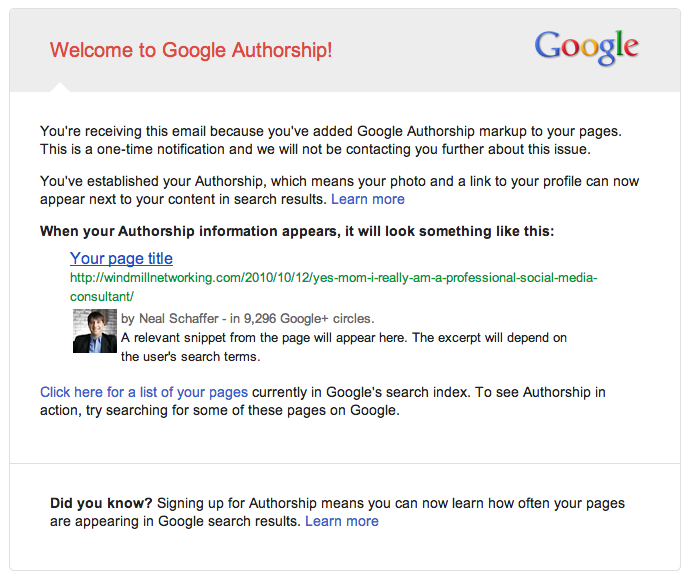 Google has been sending these out kind of randomly for a couple of months now. I never got an email, but of course my authorship has been working for almost a year now.
The email does not mean you will for certain see your author photo for your search results; it simply confirms that Google sees an Authorship connection for at least one page of content you've authored. As Google states in their documentation for Authorship, there is never any guarantee that an Author rich snippet will show.
As with all rich snippets, Google shows them based on algorithms that determine when they are the "best search result" for a particular query.. That being said….our experience has been if you regularly publish good, authoritative content that gets a good amount of engagement and re-sharing from others, the snippet will show up for most or even all of your results.
Also, you should be aware that as of a few months ago, Google now only displays the author rich snippet for the topmost result for any particular author on each page of results.
If you want to be sure that your content is properly hooked up for Google Authorship, copy the URL of the content piece and plug it in to Google's Structured Data Testing Tool (formerly the Rich Snippet Testing Tool): http://www.google.com/webmasters/tools/richsnippets
And here's how to set up Google Authorship for all your online content.
Related articles