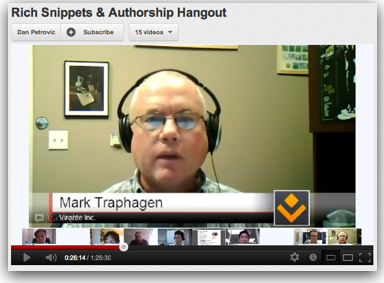 Join Virante's +Mark Traphagen with co-guest panelists +AJ Kohn and +Bill Slawski for a Google+ Hangout On Air discussion of Rich Snippet search results and Google Authorship / Author Rank. The show was hosted by +Dan Petrovic and +Martin Reed of DejanSEO. (Video is below text)
For the first 20 minutes, Dan and Martin give us an overview of Rich Snippets in Google search results. They show the different types available, and then cover the various markup schemes and other factors that can make them show up for your search results.
The remainder of the show is devoted to Google's Authorship program and how it relates to Author Rank. After defining the terms involved. Each of the guest panelists gives  his insights and opinions about how Authorship is currently being used by Google, whether Author Rank is in effect yet, and what the future might hold. We end up with a lively discussion of some of the difficulties and challenges that Google must be facing in trying to accurately assess author authority and use it as a ranking factor.
Among the questions and issues brought up:
Does Authorship convey any authority to sites that publish an author's content?
What happens if an author leaves a site on which she has published a lot of content?
Does changing the author of a content piece affect its ranking?
Will Google be able to detect misuse of Authorship? For example, will being exposed for plagiarism cause Author authority to be removed?
What about content with multiple authors?
All Mark Traphagen's Authorship & Author Rank Posts
Related articles