My friend and YouTube SEO Wizard
+Ronnie Bincer
alerted me to
an option that Google has been offering on YouTube
for a while now, but few know about:
the ability to change your YouTube channel name to your Google+ profile name, and thereby connect the two more closely
. Back when I created my YouTube account, it was just for posting family videos. I wasn't thinking back then in terms of
personal branding
and the
SEO value of YouTube.
But in the time since those uses for my channel have come to the forefront. I was dismayed when I found out that people creating
new
YouTube accounts could immediately connect them with their Google+ profiles, but we YouTube vets could not. But now we can – and I did it today.
Why Should You Sync Your YouTube and Google Plus Names & Profiles?
First off, there may be reasons why you don't want to do this. For example, the videos on your YT channel may have nothing to do with what you do with your G+ personal profile. Or you may wish to keep your YouTube videos more private. But if you use Google+ and YouTube for personal branding and to build your presence online, there are advantages to making this change.
Personal Brand consistency. If you care about building your personal brand online you should strive toward name consistency across all your online profiles. I used to have a silly, non-branded name for my Twitter profile. When I began to care more about my personal brand, and discovered that @marktraphagen was available, I made the change, even though it meant a lot of work to track down and change all the places online where I'd posted my old handle.
Google+ Sharing Bar. Ok, this is a minor advantage, but still, making this change adds one more Google product under the seamless presence of your Google+ account while you're doing anything Google. Now when you're viewing that hysterical funny cat video you just have to share to the #caturday tag on Google+ (please don't, ok?), you can do it with one click of the + button at upper right. You can also access your Google+ notifications from the Red Eye of Sauron (my nickname for it) in the Sharing Bar.
Increase the SEO power of your channel and your Author Rank. This is the most important benefit to me. Performing this name does far more than just changing the name of your YouTube presence. It allows Google to integrate your YouTube channel and activities into the "picture" it is building of you as a "trusted agent" on the web. That effect will be greatly multiplied if you've activated Google Authorship on all your online content. Now your YouTube channel becomes a positive force to help you build Author Rank authority that will increase your ranking power on Google search. (Also, alert Google+ user +Peppe Croce noticed that when he made the name change on his YT channel, the channel's PageRank (PR) rose to match that of his Google+ profile!).
UPDATE: As of 19 September 2012 we're seeing YouTube videos from accounts that have been linked to their Google+ profiles getting the Authorship rich snippet in Google search results. Here's an example for one of my videos:
UPDATE 2: Beginning 12 December 2012, top videos from your YouTube channel now show up in the Video tab of your Google+ profile:
Ability to share private videos to your circles. Once you've linked your YouTube and Google+ accounts together, you are able to share videos you set to "private" with any of your Google+ circles. (NOTE: Testing seems to show that doing so does not consistently work yet. Sharing to circles does not seem to always send it to those circles. But sharing to individual +names does send them an email notification. The video retains its privacy limits, though, even if those receiving such notifications try to share it with others.) Thanks to +Jannik Lindquist who spotted this feature and provided the screen capture below: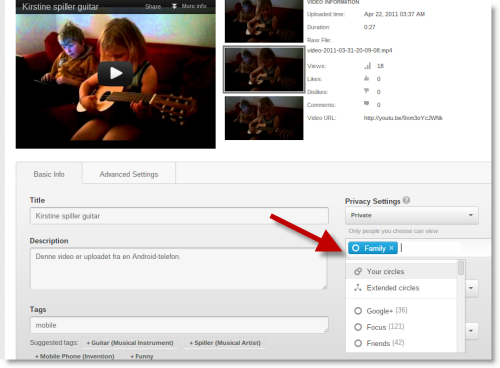 This just in!
From
+Ronnie Bincer
, a video covering the increasing number of "goodies" you get added to YouTube after you connect it to your Google+ account, using the instructions below: Before I get into the "how to" of this,
some things you should know about making the change
:
If you've created a new YouTube account since 30 June 2012, you were already offered this option if you had a Google+ profile with the same name as the one you were trying to create.
Doing this does not change your channel's URL (i.e., you do not get a "vanity" URL with your new name). The URL retains your old name, (which means all existing links to your channel are not broken by the change). What does change is that anywhere you post on YouTube (comments, uploads, channel name, activity, etc.) will have your new name. You will also start seeing the Google+ notifications and share bar when you are logged in on YouTube, telling you that your YouTube account has now been fully integrate with your G+ profile.
Making this change will change the name of your channel for all those who subscribe to your channel, but they will not get a notice of the change. You might want to sent your subscribers a message so they don't think you've disappeared.
UPDATE: Based on feedback we're getting from readers of this post, it appears that this name change option has not been enabled for all accounts yet. Do make sure that your YouTube channel and Google+ profile are linked to the same email address. Even then, though, it appears that you may not necessarily (yet) have this option. A statement on the YouTube help page for changing your name seems to confirm this: "Note: We're gradually rolling this out to our users. When it's ready, you'll see this option in your settings, or when you upload or comment on YouTube."
This tutorial is about linking a YouTube Channel with a
personal
Google+ profile.
Want to link a Google+ Brand Page to a YouTube channel
and be able to run Hangouts On Air from your business page?
See the second paragraph below the video in this post!
. Tl;dr – you can't yet sync a YT channel and a branded G+ page, but it's coming soon; stay tuned!
How to Claim Your Google Plus Name on YouTube
Here are the step-by-step instructions to change your YouTube channel name to your Google+ profile name, and thereby synch the two:
1. Log into your Google+ account and then go to YouTube.com.
This is assuming that your Google+ profile and YouTube account are under the same Gmail address.
2. Go to your YouTube channel settings.
You'll find the settngs link in the dropdown next to your channel name at upper right. 3. In the "Overview" tab, select "Advanced" under your name in the "Account Information" section.
4. Click "Begin using my full name on YouTube.
5. You'll be shown how your name will now appear on YouTube
and be told that the change will not affect your login or existing links to your videos or channel.
6. You are given an opportunity to review how your content will be affected.
If you want to "opt out" certain videos or playlists from your channel from showing your full name, click the "Review my content" button and you will be able to do that. When you are ready, or if you don't want to exclude any content, click the "Update my name" button.
That's it! You should now see the Google+ notifications and share bar at the top of your screen whenever you are logged in to YouTube. This tells you that your YouTube channel is now fully connected to your Google Plus profile. So will you update your YouTube name? What potential benefits or pitfalls in doing that have I left out?
Like this post? Please
upvote it on Inbound.org
!
Related articles