Two weeks ago Google announced to the Google+ Platform Preview Group that they were beginning to test an upgrade to the Google +1 button. The update, until now only visible to members of that group, adds content recommendations to the +1 button when a logged-in-to-Google user hovers the mouse pointer over the button. Here's what the recommendations look like: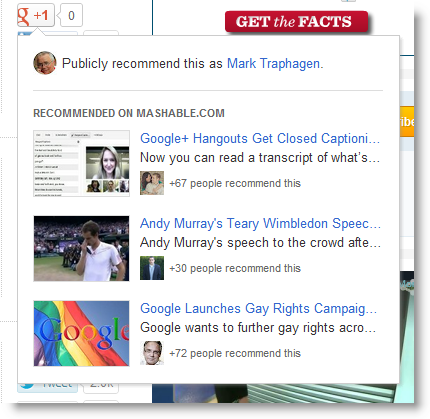 If you're not logged in to Google (or the site you're looking at hasn't been +1ed by anyone yet, you see a message inviting you to "publicly recommend on Google," but no recommendations: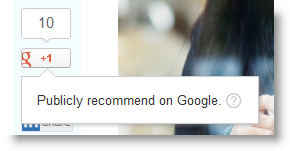 The recommended content is always from the same domain as that upon which the +1 button is located. As far as we can tell, the recommendations seem to be influenced by number of +1s on that content, as well as (possibly) its recency.
The familiar Google+ sharing box doesn't appear until the visitor has clicked the +1 button. Once the +1 button has been clicked, the recommendations disappear and don't ever reappear for the button on that page. If you share the content to your Google+ circles, subsequent hovers of the same button only bring up the share box, with a message at the top that "you publicly recommended this on Google+."
Related articles