In an email to the Google+ Platform Preview group today, Google announced that the following +1 button test, is now visible on the web to members of that group:
"Today we're rolling out a new feature of the +1 button to this preview
group: when users hover over a +1 button, we'll recommend other great
content from the same site.  This feature is available by default, so
there's nothing you need to do to enable it.  Once out of preview, all
of your users will be able to see recommendations whether or not
they're signed into Google+."
Here's how the hover recommendation feature looks in use: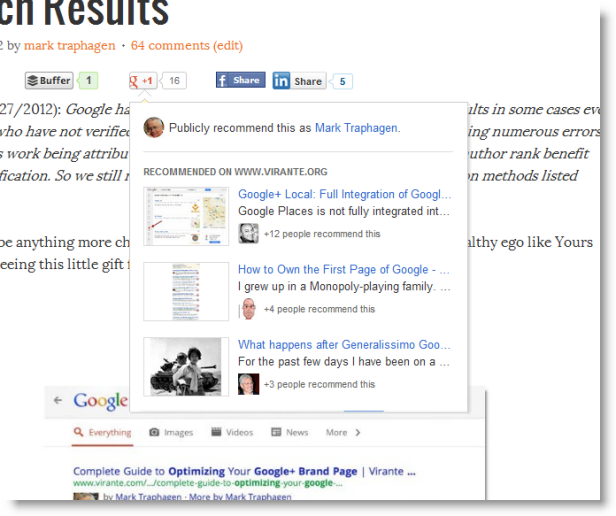 Clicking any of the recommendations opens that page in a new browser tab. If the visitor is signed in to Google and has already +1ed the page, hovering over the button shows only the current standard share box, with no recommendations.
Google is seeking feedback from those in the preview group which they will use to tweak the algorithm that decides what content gets recommended, before making the new feature public for all web users.
From our testing so far, it appears the present algorithm favors content from the site that is fairly recent and has the most +1s, although other factors less visible are probably influencing results as well. It is interesting to note that the feature will work whether or not the user is logged in to Google+, which would seem to indicate that it is not dependent upon social cues from the visitor's Google contacts and Google+ friends.
This feature may help to increase usage of the +1 button by sites. In-site content recommendation pop-ups and slide-ins have been documented to significantly increase page views and time-on-site.
As the +1 button increases in utility, so does the importance of having a Google+ page properly connected to your site. See our guide to verifying your Google+ brand page for instructions on how to do this. Having a verified connection not only allows Google to aggregate your +1 counts from your site, G+ page, search results, and AdWords ads, it also may aid in search engine ranking power.