Anyone building a brand or business page on Google+ quickly comes to a rather unsettling realization: at no point in the process does Google do anything to check that you have any real connection to the brand name on your page. Anyone can create a Google+ Page with any name they want. So there could be dozens, even hundreds of Pages with your brand name not under your control.
So it would seem that you are left relying on searchers' detective abilities to sniff out which page is the real McCoy, right?
Thankfully, the answer is "not entirely." Google has provided a way for you to verify your page to Google. As a verified page, you get or are eligible for the following benefits:
Possible preference in Google and Google+ search results for your brand.
Eligibility for a Knowledge Graph enhanced result for your brand in the right sidebar of Google search results.
Flow through of +1s between your brand site and your Google+ Page (and related AdWords ads, if you've made that connection.)
Eligibility for the new In-Depth Articles feature in Google Search.
How to Connect Your Google+ Page with Your Site
1. Make sure you have a link from your Google+ Page to your official web site. Easiest place to do this is in the "Links" section of your Page's "About" tab.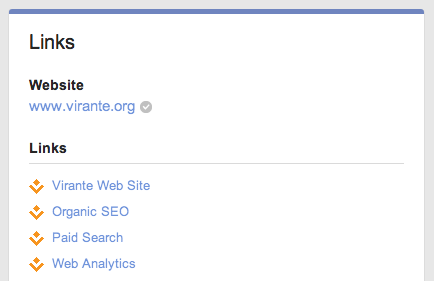 Warning! It is very important that you link in the same way your site appears in its resolved URL. In other words, if your site uses www, include that in your Page link. If it is non-www, don't include it.
Click the "Edit" button at the bottom of that section, then click on "Add Custom Link" at the bottom of the Links portion.
Fill in the "Label" box with whatever text you want the user to see for the link (e.g., Our Home Page), and the URL of your site's home page in the "URL" box. Click "Save" and then "Done Editing."
2. Link back from your official website to your Google+ Page.
This link could be in the header of your site (in the form <a link="https://plus.google.com/u/0/b/109417353800451599337/" rel="publisher">) or visible in the body of your home page. In either case, be sure to include the rel="publisher" schema attribute in the link.
OR
2a. Put a Google+ Badge on your web page.
Go to the Google+ Badge Wizard
Enter the ID number of your Page in the first box.
You'll find the ID number as part of the URL for your Page. For example, the URL for Virante's Page is https://plus.google.com/u/0/109417353800451599337/ so our ID number is 109417353800451599337.
Now choose a badge style. Some of the badges can be customized with your own text (whatever you type in the customize box will appear before the icon in the badge).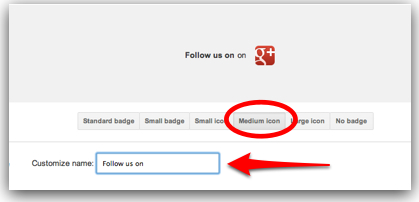 Copy each of the code snippets to paste into the HTML of your site. The first goes in the header section of the main page (between the <head>and </head> tags). The second goes wherever on your web page you want the badge to appear. (Tip: If you don't want to display the badge, pasting the first code snippet in your header will be enough to establish the verification link with Google.)
If you have a WordPress site, go to Editor in the Appearance section of your Dashboard, and edit header.php. If you're on Blogger, go to the Design tab and click the Edit HTML sub-tab. Place the header code anywhere in the top part of the template, before the </header> tag.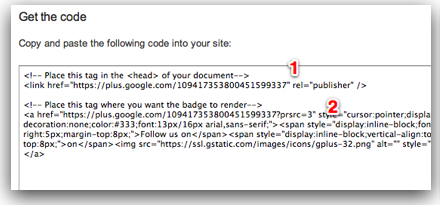 If you use the fullest version of the Page badge, it even displays friends of the visitor who have +1ed you, a +1 button, and an "Add to Circles" button. The +1 button will display your aggregated number of +1s from your home page, your Google+ Page, and any AdWords ads you've linked to +1.
That's it!
Google will now see the unique connection between your Google+ Page and your website, and will give your page preference in search results for people searching for your brand.
So Where's the Checkmark for My Google Plus Page Name?
You may notice that some Google+ Pages have a checkmark in a shield next to their name that expands to "Verified Page" when you click on it.
Don't despair if you do all the steps above and don't see it on your Page. The procedure outlined above is still worth doing, as it signals Google that yours is the official page for your brand. Certainly that will factor in to Google's search results.
Google+ used to allow you to request name verification if your page had gained a large following. They no longer accept such requests. I'm not sure whether they are still verifying names, but my hope is that if your Page gains enough followers and engagement, the name verification will be awarded automatically.
More great tips for using Google+ for Business
–   –   –   –   –   -|-   –   –   –   –   –

Want more out of your social media marketing? Virante brings you years of experience and leadership in Internet marketing that feeds research-backed, results-oriented social media recommendations. Our industry-recognized prowess in SEO allows us to help you use social media to get your message front-and-center on the web. Contact or call us  today to find out how Virante can give you a social media edge! (Send us a message or call 800-650-0820)
Related articles