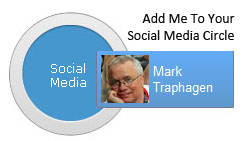 After nearly a year of extensive testing, I have absolutely no doubts about the power of a Google+ profile or page to influence Google search results. But I do sometimes have doubts about the quality of results that, well, result.
I was fortunate enough to get invited into Google+ on its third day in existence. I decided I was going to "go for it" more than I had on any social network before. By the time I got really active on Facebook and Twitter, the rock stars in my niche were already well established on those platforms, and it was really hard to break in. But on Google+ I was able to build a reputation as someone knowledgeable about using and explaining  Google+ effectively.
I now have over 16,000 followers there, compared to 1,450 on Twitter. Based on a couple of ranking sites, I estimate that I'm in the top 1-2% of Google+ users in terms of number of followers.
Google+ Posts Rank in Google Search
But more impressive to me is my ability to rank my Google+ posts high in Google search for keywords that are topically-related to what I mostly write about. For example, at the time of this writing in an "incognito"* Google search I rank at or near the top of page 1 for "google+ page analytics," "google author verification," "google author rank," "how to optimize a google+ brand page," "google+ vanity urls" and  "google+ guides." While those are admittedly long tail search queries, they all have enough volume to be valuable to me, as I can see in our analytics. I attribute those results to the probability that I have high Author Rank for those topics, based on Google's ability to use my author verification to link me with content on Google+, on this blog, and on a number of influential guest blogs.
But I also rank high for some less topically related searches like "lazy day activity," "harry potter lied," likely because of G+ posts I wrote with those terms in the titles that went semi-viral on Google+.
So the pattern I'm seeing is that I can outrank even some very popular web sites with Google+ posts for which I have topical Author Rank authority. I can also outrank other Google+ users for long tail keywords, often even if they have way more followers than I do. (See "How I Outranked Mari Smith for Her Own Post" for an example").
Just as a not-unimportant aside, during this same period in which I was building a powerful G+ profile – Google Author Rank combination, we saw traffic from organic search rise dramatically for our site. I've heard enough similar stories from others to be pretty convinced that this is not a coincidence.
An (Undeserved) Tiger in My Tank
While I certainly enjoy the ability to get G+ posts ranking in Google search, as well as helping to boost my overall SEO, at the same time I'm concerned about the quality of many of the post results, from the searcher's point of view.
Take a recent example. My friend Jesse Wojdylo was invited to be one of just three regular G+ users to be in a live Google+ Hangout on Air with legendary golfer Tiger Woods. Naturally, Jesse wrote several posts about this exciting opportunity, and naturally I was excited for him and re-shared those posts to my stream.
A couple days later, here were the top results for an incognito search for "tiger woods google+ hangout":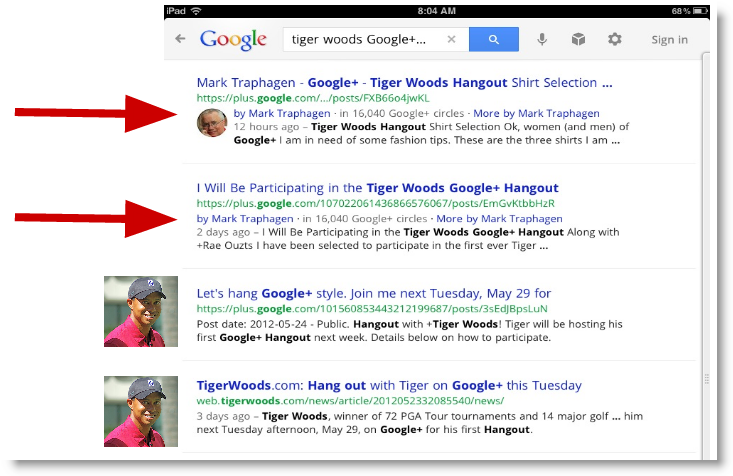 The arrows point to my re-shares of two of Jesse's posts. The Tiger pictures (not in the actual search results) are indicating a post from Tiger Wood's own Google+ Page and a post on his official web page. Two observations:
I got the Google credit for Jesse's posts. Jesse is an active Google+ users, but he has "only" 1600 followers so far, and hooked up his author verification just a month ago.
For a number of days leading up to and just after the Hangout event, I outranked Tiger Woods himself for this result.
Hooray for me! But let's look at the quality of those results:
First, there is the issue of me outranking Jesse
for his own content
(just as I did to social media rockstar Mari Smith in the example linked above). Not only does this seem unfair to Jesse, it smacks of the days when content scraper sites could often outrank you by plagiarizing your own content,
one of the very things Google author identity was supposed to combat!
 Granted this was unintentional on my part, but still unfair.
But even worse is that it removes the searcher a further click away from the sought-after content. In the first result above, I was sharing a post by Jesse where he was asking his followers to help him pick out a shirt to wear for the Hangout. After clicking that result, the searcher sees this: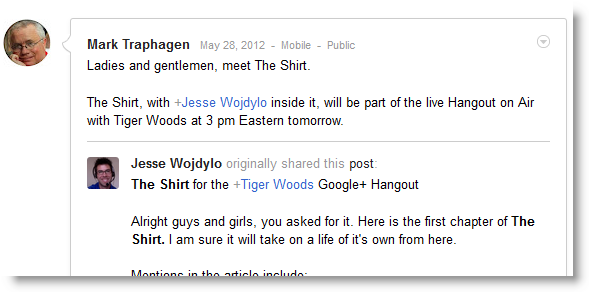 In order to get to and engage with Jesse's original content, the visitor has to click again (on the word "post" in "shared this post"). On any regular web page, that would result in a possible devaluation of the result by Google, as it should.
At times, these Google+ post search results can be downright deceptive. Take a closer look at the second result in the Tiger Woods Hangout search:

The headline being used is from Jesse's post which I reshared. But with only that and my rich snippet byline ("by Mark Traphagen") to go by in the result, it makes it look like I would be in the Hangout!
How Google Could Improve Google+ Post Search Results?
Let's look at some patterns here that I think are causing such lousy results and what might be done to correct the problems:
Post Titles of Reshared Posts Indexed. Not only does Google index the title of the original post in a reshare of that post, that title seems to have the strongest indexing power. In the vast majority of cases where I have ranked high for a reshared post, it was for keywords found in the original post's title, not my own comments added to it in my reshare. Solution: Google should turn down the authority it has given reshared post titles, or perhaps even not index the reshared post at all, just whatever title or text the sharer has added.
There is a possible downside to this: some great content by less powerful G+ users might never see the light of day in Google search. In fact, I suspect that may be the very reason Google does this. They want lots of Google+ content to show up in search results to entice others to use and engage with Google+. Allowing power users like me to rank for practically anything helps accomplish that.
No Link Profile Means No Context. All the recent panic over Google algorithm updates like Panda and Penguin has led some to proclaim "links are dead! social signals rule!" This is absurd. Google still needs links because (good) links provide not only a "vote" for a page but some context. If a lot of pages about kitty litter are linking to a certain page, it's a good bet that that page is about kitty litter.
But while Google treats Google+ posts like any other web page in terms of ability to be crawled and indexed, there is no apparent link profile for a G+ post. The only significant factor in getting a G+ post to rank seems to be the profile/Author Rank power of the person who posts it. Solution: Google should find a way to count reshares as links that flow "link juice" to the posts that they are sharing. Thus several influential profiles resharing Jesse's Tiger Woods posts (and there were such reshares) should be a clue to Google not to rank the reshares, but that the original post is relevant and should be ranked.
As Google+ indexing is currently working, it is as if PageRank was never invented, and there was only on-site SEO, with "sites" created by more powerful "publishers" being able to outrank everyone else for whatever appeared on their pages. That's not very Google!
What do you think? Do you agree that these are poor search results? Can you think of other ways Google could more fairly and relevantly rank G+ public posts?
Related articles