Starting today, Google+ users are seeing a new tab in the left sidebar: Local.
Clicking Google+ Local takes the user to a special search page, with the user's default location already filled in. Enter a search query and you get a screen of Google Places results for the entered location: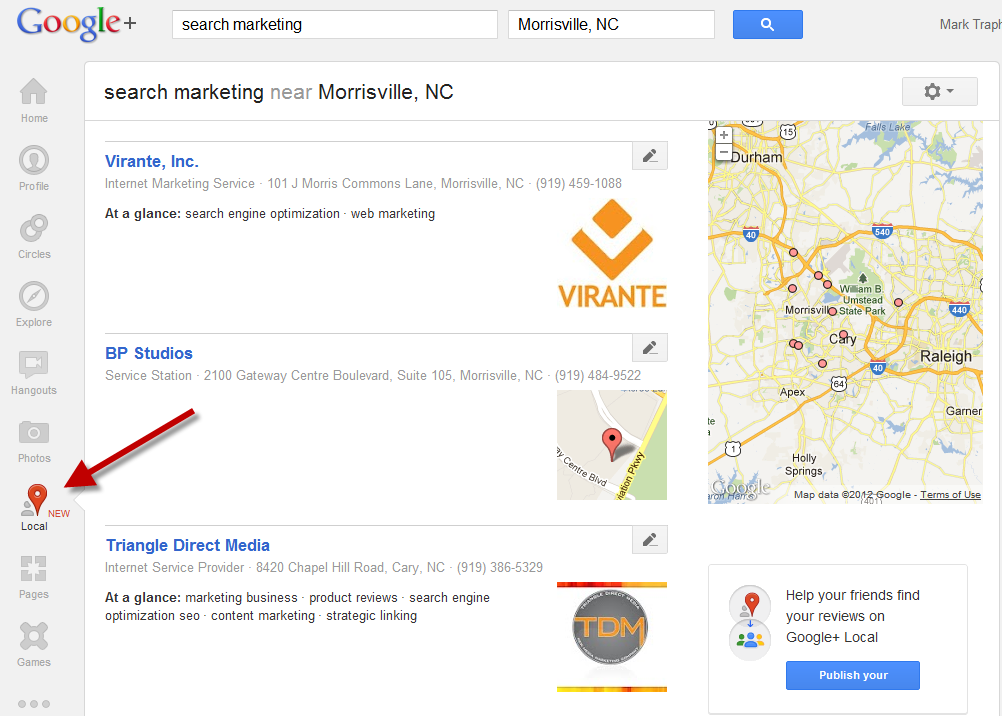 Obviously this is the long-promised integration of Google Places with Google+. At this time, there does not appear to be any reciprocal link into Google+ from the normal Places results in Google search.
If you search for something that typically has customer ratings in Google Places, the results are ranked by "score" based on those ratings:
On Google Maps or in Google Search, clicking the "More Info" link on the pinpoint popup takes you directly to the new Google+ Local page for that business: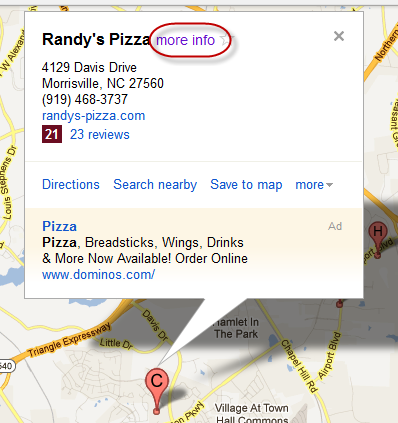 Obviously, this dramatically increases the importance for local businesses to get good ratings on Google Places. Consumers can also post ratings on the listings in Google+ by clicking the pencil icon at the upper right of each listing. The first time you click that icon, you are alerted that all ratings will be publicly viewable, both in Google+ and in Google search. Then a confirmation screen appears, offering to post any or your previous reviews: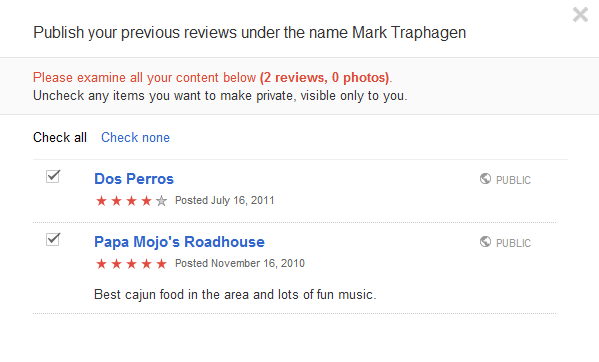 After confirming and publishing your existing reviews, you get the form to post your new review: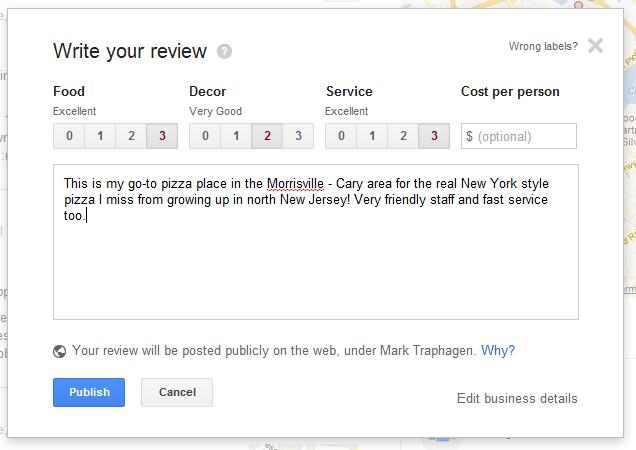 You then get the opportunity to share your rating as a public Google+ post, including the ability to add your own comment as with any share on Google+. Here's what the final published post looks like: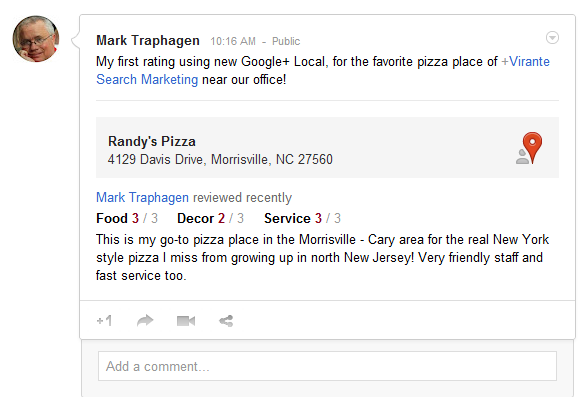 Google Plus Local vastly expands the reach that businesses can have through their Google Places listing. It seems a no-brainer now that every local business should pay a lot more attention to those listings, and find any way they can to encourage customers to post positive reviews.
Here's another reason why this is so powerful: remember that Google+ public posts are indexed for Google search. Now that your customer's ratings of your business can become, essentially, indexed web pages, your business gains more opportunities to be found in Google search results.
BONUS: This update also fully integrates Zagat reviews into the results!
UPDATE: On the Google and Your Business Blog, Google has listed a set of features coming soon that will further integrate Google+ business pages with the new Google+ Local listings:
More changes coming soon for business owners
We know many of you have already created a Google+ Page for your business, and have been hosting hangouts and sharing photos, videos and posts. We're excited that we'll soon extend these social experiences to more local Google+ pages in the weeks and months ahead. To give you a sense of what's coming, we've worked with a few business owners to fully upgrade their listings early and share their Google+ business identity across Search, Maps and Mobile.
Here's what those enhanced Google+ Pages with Google+ Local included will look like. Notice the inclusion of the Local rating information in the About tab of the Page: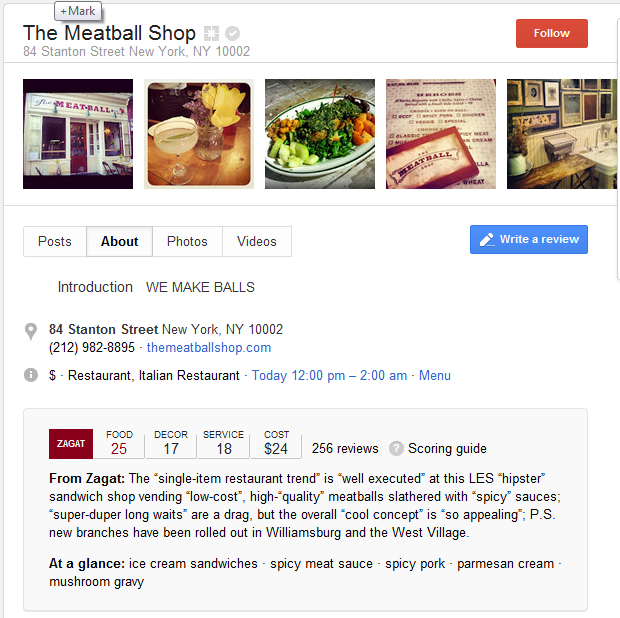 With that promised integration, it is now more important than ever that every local business have a Google+ brand page. I have a post with great tips on how to optimize your Google+ brand page.
Here's Google's official video introducing the new features:
How will you make use of Google+ Local? Will this new feature cause your business to pay more attention to your Google Places listing?