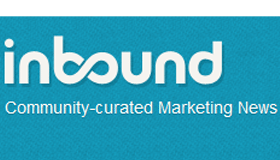 There is simply no better source on the web for discovering the best inbound marketing content than Inbound.org.
Members contribute links to articles they find useful, and the community upvotes the best to the front "Hottest" page. Most of the best and most recognized names in inbound marketing are active on the site.
In this post I've curated for you the top 3 most upvoted posts for 2012 in several of the most popular categories at Inbound.org. I've included my brief synopsis of each, as well as links to the posts' creators' web sites and social media profiles (as available), so you can follow them for more great content (and you should!). I have reserved the right in some categories to skip over humorous or low-content posts that got voted up; I'm trying to present here the meatiest posts voted high by the community. The vote count image before each post links to its entry at Inbound.org, so you an upvote it (not that it needs it now!) and/or comment on the discussion thread there. So without further ado, here are the best of the best of Inbound.org 2012:
SEO

The Most Creative Link Building Post Ever by Jon Cooper | Twitter | Facebook | LinkedIn | Google+
Jon Cooper (by the way, this dude is _19 years old!_) contacted over 50 high profile SEOs to get them to relate the most creative way they ever got a link back to their site (or a client's site). Some will inspire you, some will frighten you (in their riskiness), but this post is a one page education in link building for the non-lazy (i.e., without just paying for links).

Link Building Strategies: The Complete List by Jon Cooper | Twitter | LinkedIn | Google+
Young master Cooper snagged the #2 spot for the SEO category as well with his listing of every viable link building strategy he knows. He's even has a handy filter so you can select the tips according to the level of their link value and what resources upon which they depend. As Jon says, this is the one post of his to bookmark for future reference if you can only select one.

Growing a New Website to 10o,000+ Organic Visits Per Month by Nick Eubanks | Twitter | LinkedIn | Google+
Nick tells the story of how he took a brand new site from 0 to over 100K visitors in just 9 months through just SEO and content strategy. Just to up the challenge…the site was in Japanese, a language Nick doesn't read or speak, and one notoriously hard to perform SEO tricks with because it uses non-roman characters! All the Inbound.org SEO posts ranked by votes
Community

We Can Do Better Than This by Jonathon Colman | Twitter | LinkedIn | Google+
This is Jonathan's polite rant about the dearth of long-form content in the SEO world. He thinks we've become too addicted to the easily-scannable "Top 5 ____" posts, and that professional journal level writing is therefore disincentivized. He longs for more writing (and conference presentations) that truly breaks new ground, that challenges, that inspires.

Rand Fishkin on How to Build a Passionate Online Community by Rand Fishkin |Twitter | LinkedIn | Google+
Rand, the creator of Inbound.org, discusses how and why he founded that site, and what' he's learned over the years about turning "visitors" into motivated community members. (Audio is behind a pay wall, but you can read the text transcript for free.)

Can the SEO Community Embrace Long-Form Content? by Barry Adams |Twitter | LinkedIn | Google+
Barry addresses the challenges that work against producing the kind of quality, long-form content that Jonathan Colman pined for in the first post in this category.
Social

Step-by-Step Interactive Guide to Social Media by Jasper Martens and Hannah Smith
This infographic on steroids walks you through all the steps you need to do to formulate a complete social media marketing plan for your business. At each step it contains links to resources that can help you make wise decisions for that stage of the process.

Using Reddit for Traffic, Social Signals, and SERP Improvements by edmond.
A case study of successful Reddit submissions, including tips on how to avoid getting flagged as a spammer, and how to submit content previously submitted.

How to Tweet Like You're Not a Business by Jack Martin Twitter | Google+
TL;dr: be real, be friendly, don't spam.
Content

Content Strategy Generator Tool by Daniel Butler Twitter | Google+
Plug in a keyword and this tool uses Google Trends to find hot related topics for you to write about. It also uses Followerwonk to find influential Twitter users who are related to that topic as possible guest post contacts.

Linkbait Is Not a Content Strategy by John Doherty Twitter | Google+
Linkbait (content that has no other purpose than to attract a lot of links) has been touted as the salvation of hard-to-write-about businesses, but Doherty sees it as mostly fail because it is short-lived, and it doesn't lead to real client relationships. Instead, you should create what Doherty calls "top of funnel" content.

Why Big Content Is Worth the Risk by Dr. Pete Twitter | LinkedIn | Google+
"Big Content" is content that takes time and effort. It breaks molds and new ground. It doesn't have to be long, but it always adds a lot of value and is backed up by real research and/or testing. SEOMoz's Dr. Pete explains why it's worth doing, and how to minimize the cost and risk involved.
Did you like this post? Please upvote it at Inbound.org!
Related articles