This month's PPC Update highlights all of the recently released and upcoming features planned for Microsoft Advertising (formerly Bing Ads):
1. Marketing with Purpose Attributes
To help brands communicate their values, differentiate themselves from competitors, and promote their efforts towards inclusion and/or social responsibilities, Microsoft Advertising launched their "marketing with purpose attributes," which are intended to be served within ads.
Below is Microsoft Advertising's example for a business looking to showcase their environmental values, using the attribute Carbon–neutral.

(image courtesy of Microsoft Advertising)
Noting their understanding of how important trust and authenticity are consumers, and how communicating these are important in driving value for both your brand and online users, Microsoft Advertising launched these attributes as a means of creating better, stronger connections between brands and their consumers, saying "great relationships start here."
While there are only about 32 total attributes available at this time, more are likely to be released. The existing list is categorized into four groups (Inclusion, Environmental, Community/Social Responsibility, and Accessibility), and is as follows:
Inclusion
Environmental
Community/Social Responsibility
Accessibility
Vegan
LGBTQQI+ -friendly
Unisex
Allergy-friendly
Pet-friendly
Family-friendly
Kosher
Halal
Alcohol-free
Gluten-free
Vegetarian
Eco-friendly
Carbon-neutral
Sustainable
Carbon-negative
Cruelty-free
Non-profit
Supports a cure
Local business
Small business
Family-owned
Minority-owned
Black-owned
Supports disease research
LGBTQI+ – owned
Wheelchair accessible
Visual assistance
Hearing assistance
Mobility assistance
Touchless pickup
No-contact delivery
Web accessibility
Microsoft Advertising makes setup easy too! Attributes can be added at the ad account level, with steps as follows:
Navigate to All Campaigns.
Click on Settings.
Check all attributes that apply to your account.
Click Save.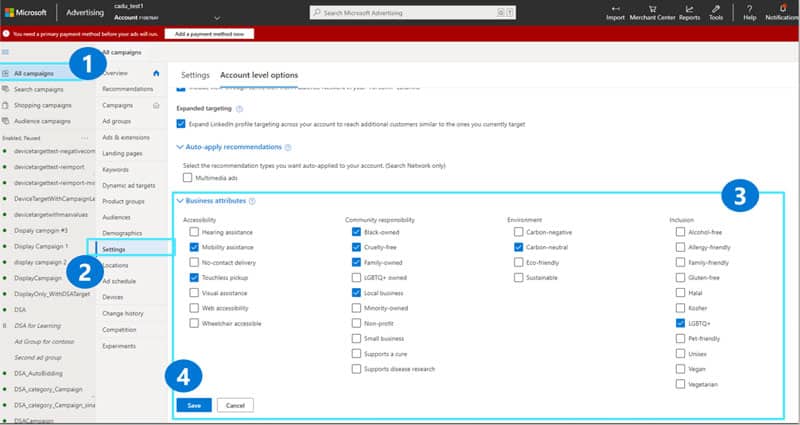 (image courtesy of Microsoft Advertising)
2. Enhanced Reporting for Shopping Campaigns
Microsoft Ads recently launched two new enhancements to reports for Shopping Campaigns, empowering users with a better means of understanding the performance of their products. The first enhancement is named "Performance," which provides insight into impressions and clicks, average costs, and spend. The second enhancement is "Conversions," which reports revenue, return on ad spend (ROAS) and all conversions data. Completing the Shopping Campaigns hat trick, Microsoft also improved the functionality of its Products tab grid—which also includes the newly available selections "filtered total," "deleted items total," and "overall total" made visible at the bottom of the grid.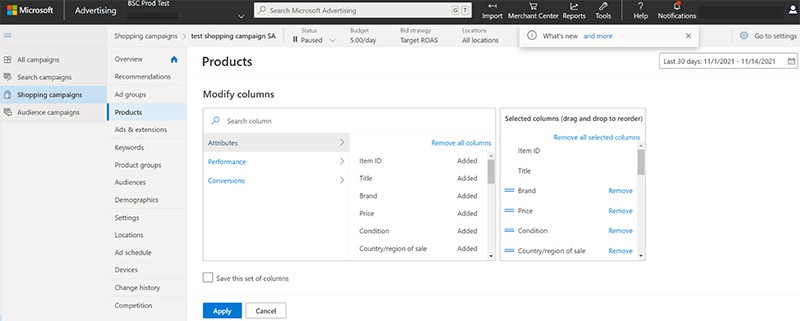 (image courtesy of Microsoft Advertising)
3. Removed Minimum Spend Requirement for Customer Match
Influenced by what's being called the "cookie-pocalypse," Microsoft Ads has opted to remove barriers to their Customer Match targeting feature, "[making] it possible for more of you to use this feature that plays an important role in moving into the cookieless world." The feature is an important tool for remarketing programs, offering brands the ability to upload their customers' email addresses and reengage with them on various platforms that leverage the Microsoft Search Network and the Microsoft Audience network. There are additional requirements for Customer Match lists—especially as it relates to increasing privacy concerns around the globe. Such concerns also exclude the feature's availability in markets like the European Union, United Kingdom, and China.
4. Audience Expansions
Microsoft Advertising also took steps to further expand targeting opportunities by expanding the Microsoft Audience Network to those in more countries—including Argentina, Austria, Belgium, Brazil, Chile, Colombia, Denmark, Finland, Ireland, Italy, Mexico, Netherlands, Norway, Peru, Spain, Sweden, Switzerland, and Venezuela. They plan on adding additional markets soon, expanding beyond the new additions and the original markets of the United States, Canada, the United Kingdom, Australia, New Zealand, France, and Germany.
Microsoft Advertising also opened their Similar Audiences as betas in the United Kingdom, Australia, India, New Zealand, Indonesia, Malaysia, Philippines, Singapore, Thailand, and Vietnam. This provides an easy way for brands to engage with prospective customers with similar interests and behaviors to that of the brand's remarketing list.
Adding to the list of Microsoft Advertising hat tricks, they've also expanded in-market audiences to include Latin American markets, as well as added more targetable segments. The complete list of in-market audience categories can be found within this file.
5. The Rise of Visual Storytelling: Increasing Imagery in Search
Microsoft has big plans, and it could pose for a significant shift in how users engage with Bing's search ads and page results.
With a new focus on visual storytelling, Microsoft is planning to differentiate itself by leveraging imagery and what they're calling "visually immersive updates" to the advertising experience for their users, both consumers and advertisers. More information on their ambitious plan can be found here, with some interesting future features presented as follows:
Rich Visual Assets in Search and Native Ads
(image courtesy of Microsoft Advertising)

Image and Video Collages for Exploratory Queries
(image courtesy of Microsoft Advertising)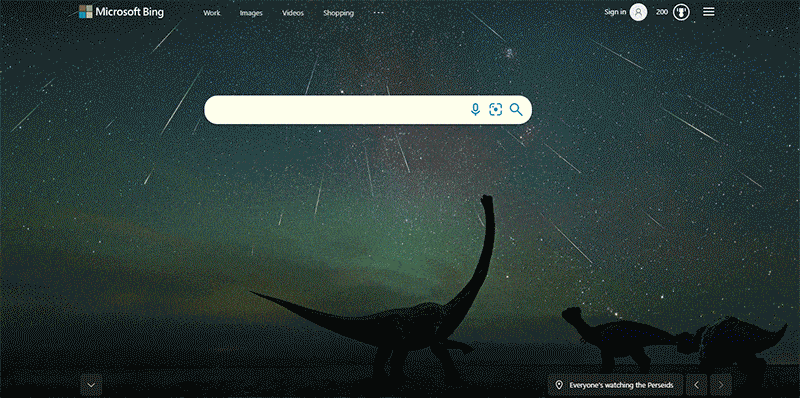 Reconfiguration of Search Pages to Prioritize Imagery
(image courtesy of Microsoft Advertising)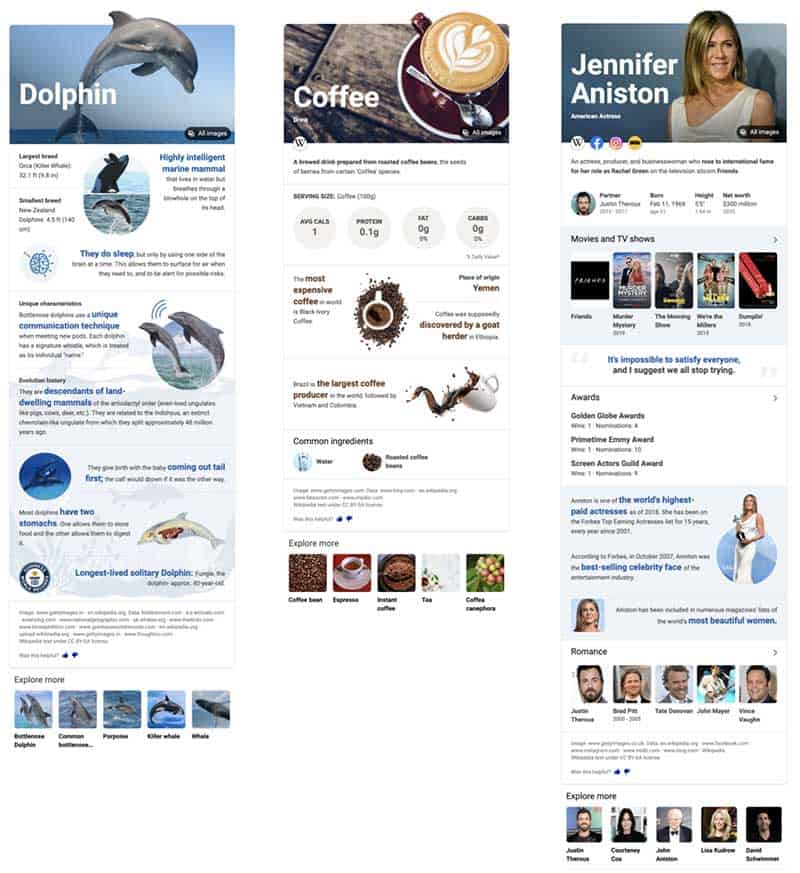 New, Responsive Multimedia Ads
(image courtesy of Microsoft Advertising)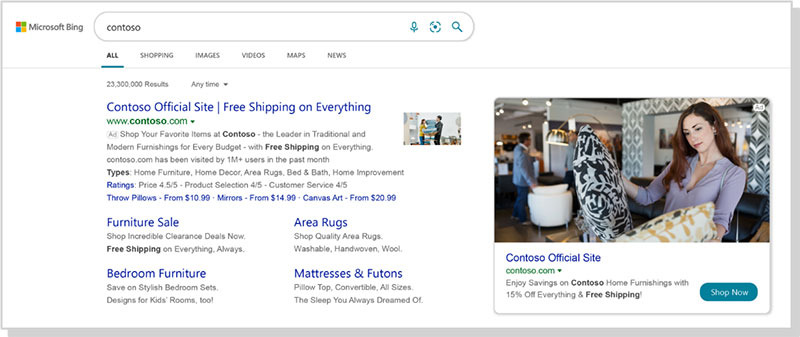 Unique Approach to Search Ad Image Extensions
(image courtesy of Microsoft Advertising)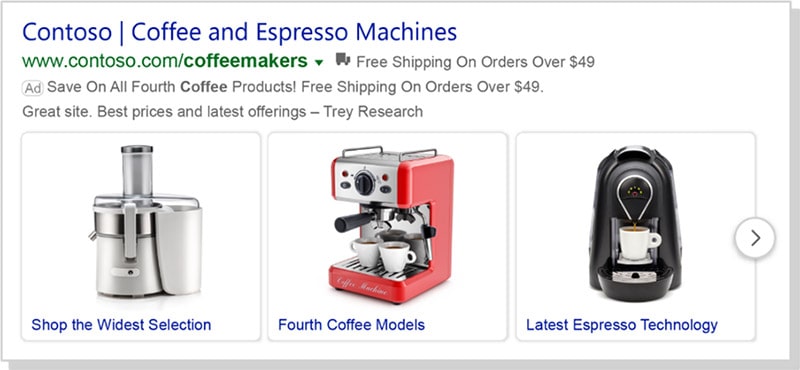 Microsoft Audience Network Native Ad Placements on MSN, Microsoft Edge, Outlook, Etc.
(image courtesy of Microsoft Advertising)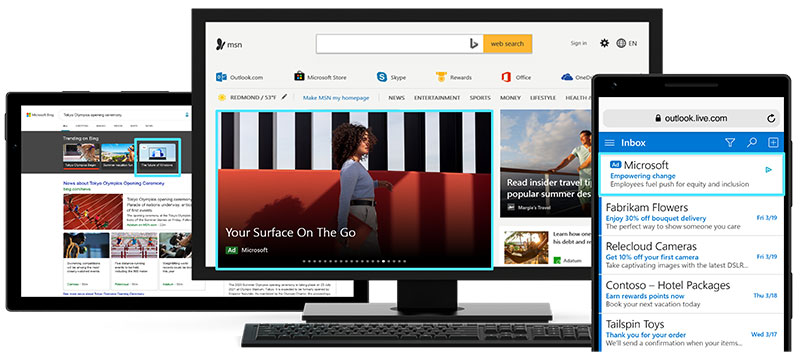 Search Ads New Video Extensions
(image courtesy of Microsoft Advertising)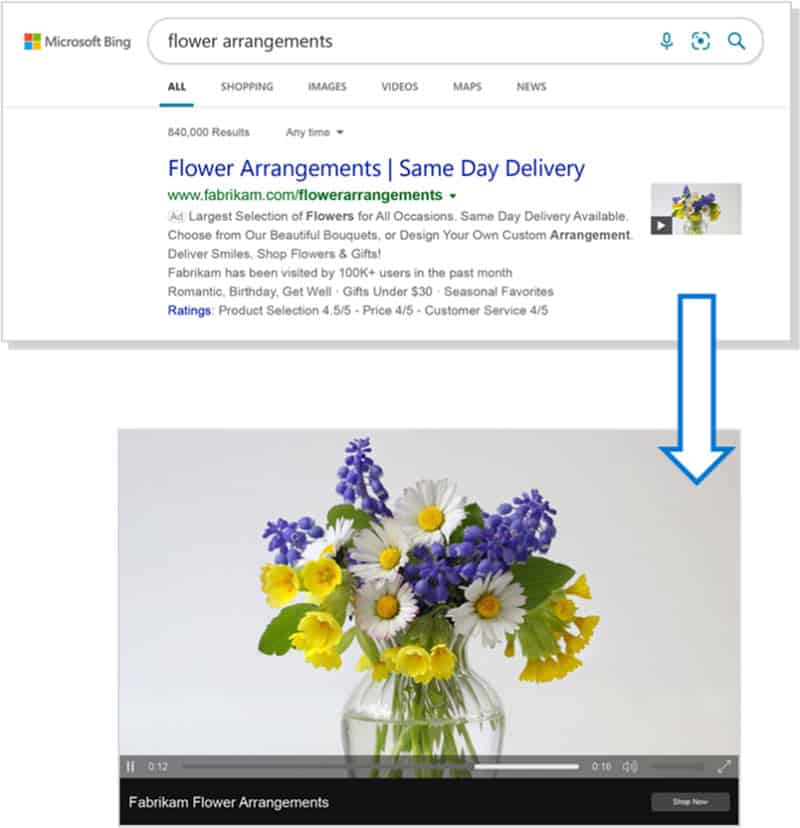 Asset Imports from Facebook and Google, and Smart Effects Asset Editing
(images courtesy of Microsoft Advertising)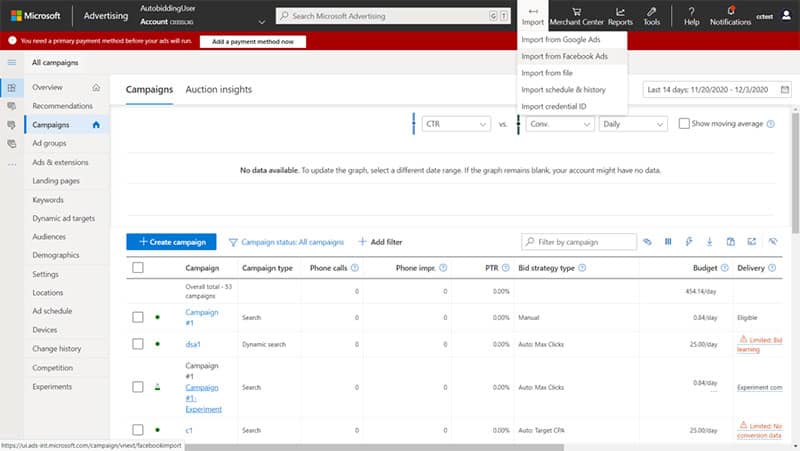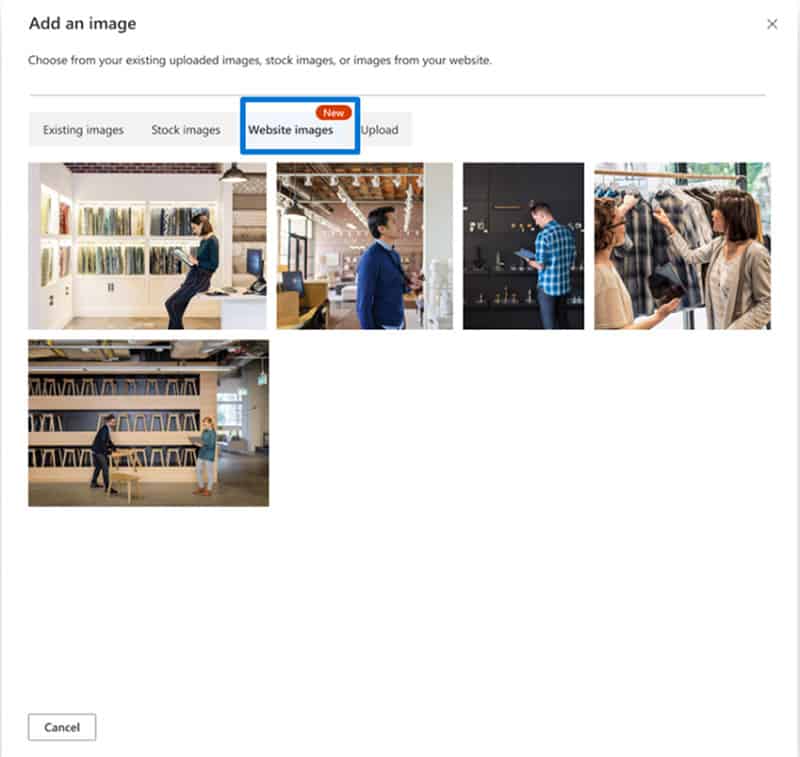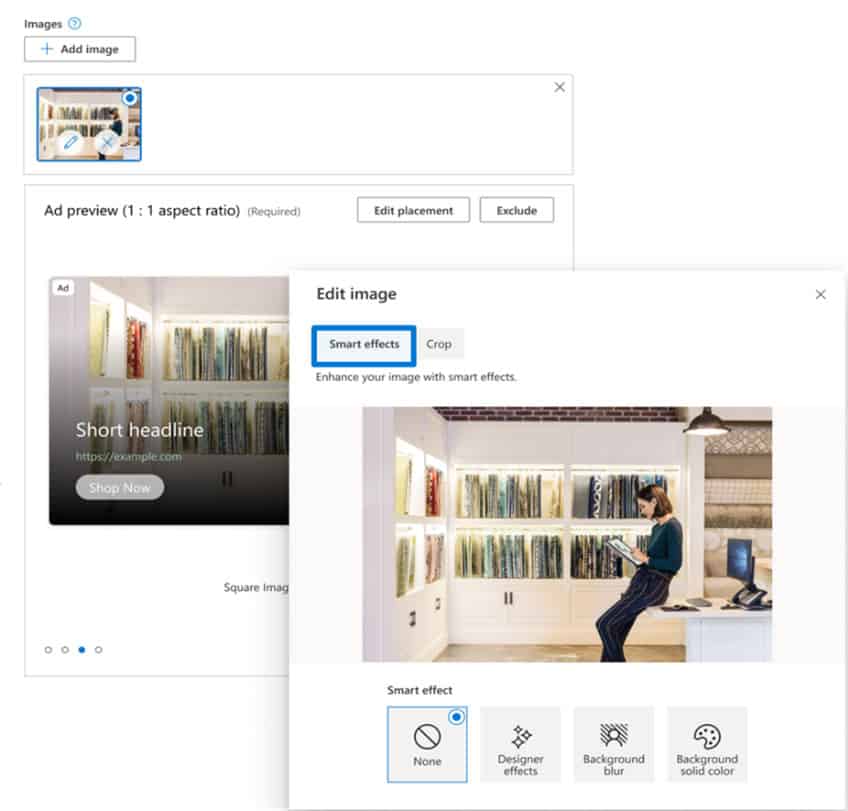 There are many more features highlighted in Microsoft Advertising's post on visual storytelling, and we're excited about them all!
Important Takeaways
The biggest takeaway from this list is that Microsoft Advertising is taking steps to make their platform more accessible, more engaging, and more helpful to advertisers and consumers alike.
Improving reporting, expanding access, and finding new ways to improve user engagement definitely benefit brands and advertisers—while also adding to the reasons brands should consider leveraging the platform in their marketing mix, if not already. Too often, Microsoft Advertising is excluded from prioritized channels because it receives markedly less traffic relative to Google, but the traffic acquired tends to be less expensive and have higher conversion rates. Perhaps, the adoption of new visual storytelling techniques (and both the conveniences these new formats offers consumers and their likeliness to increase engagement), will help Microsoft Ads better position themselves to grow their percentage market share.
Should you need assistance in assessing Microsoft Advertising for your needs, navigating these new features and enhancements, or optimizing performance of existing efforts, our team is happy to help. Discover more about our processes and performance results by checking out our recent case studies.