UPDATE 7 October 2013: I no longer believe that the ranking result I show below is the result of either Google Authorship or Author Rank. See "Google Authorship Not a Ranking Factor (Yet)." I now attribute it to the PageRank authority of my Google+ profile. For more on that, see my article on "Google Plus SEO." 
Combining an influential profile on Google+ with Google's rel="author" author verification tag on your online content can create a powerful one-two punch to make you more visible in Google search, even for those not logged in to Google. Check this example:
Last Friday I posted on Google+ about how to get a high-value followed link from your Klout profile. Then yesterday I shared a Google+ post by+Dan Bochichio about the topic. Here are the two posts:
My post
My reshare of Dan's post
The screen capture below shows the non-logged-in-to-Google front page results four days later for the keyword "followed link from klout." Notice that my Google+ posts outrank both the original blog post from which I got the info (PageRank unavailable) and theinbound.org (PageRank 5) post that links to it.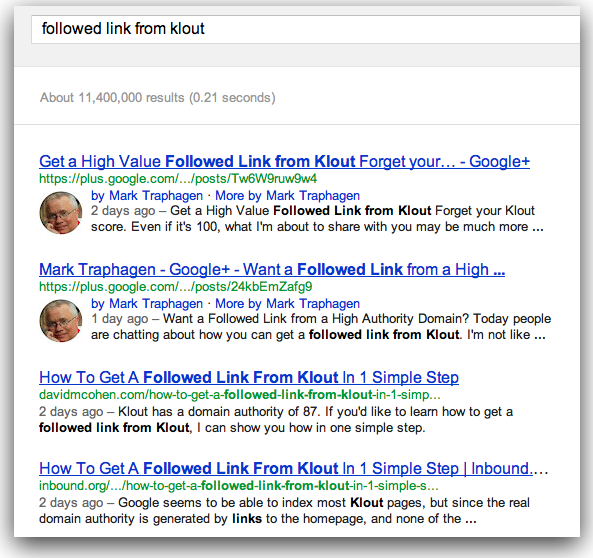 I want to emphasize again: these aren not Google Search plus Your World personalized reults. They aren't even the non-personalized switch in SPYW. They are from a browser totally not logged in to Google.
Notice that I also got the author rich snippet photo and link for both entries.
Google+ + AuthorRank (Author Verification)
The only explanation I can come up with for this is the combination of my increasing influence on Google+ (including how much I am reshared and otherwise engaged by influential users) combined with the high ranking and high CTR posts on this blog and influential guest blogs where I write.
Because I properly setup rel="author" on my blog and all guest blog posts, which ties them all to my Google+ profile, Google knows who I am both on the general Internet and on Google+ and ties the two together into what many are calling "AuthorRank." (See How to Verify Your Authored Content with Google)
You need to understand that before Google+ and before my adoption of rel="author" I was a "nobody" on the web. My content never ranked very highly. Now with no other major changes in what I was doing other than building influence on Google+ and producing consistently good, topic-focused content elsewhere using author verification, my typical search rankings for my most important keywords have soared to the top.
Takeaway: I hope the takeaways are obvious. But I'll spell out a few:
1. Participate actively on Google+.
2. Have a well-filled-out G+ profile, and include the main topics you post about in the Intro.
3. Cultivate your influence here. Post regularly with great content. Be generous and help others and share their good stuff. Build relationships with influential people in your fields.
4. Get everywhere you post content "out there" properly linked to Google+. Link all your public social profiles in your G+ profile. Most importantly, set up Google author verification on your blog or wherever you post original content. See our handy guide to setting that up.
Update: See my latest post, in which I demonstrate that not only can Google+ posts outrank the web content on which they were based, they can continue to do so weeks later if they have high engagement. Check out "Engagement Trumps Recency in High Ranking Google+ Posts"