Like many of you, we woke up today with the release of Moz's Links Beta and we immediately sat down to play. I was tipped off surreptitiously by Russ Jones at Moz when he asked the tech slack channel if they could take screenshots of link data in Moz because "there was a bug [he] needed help with". The clever ruse meant that we had some data to compare against today now that their beta has launched. So let's talk about first impressions.
Huge
The first thing that is clear is something radical has changed about the Moz index. I haven't seen any statistics, but everything we measure and track is bigger than it was before, and not just by a little bit. We are seeing everything from 5X to 100X the size of metrics like root linking domains. After years of
Open Site Explorer
trailing behind both
Ahrefs
and
Majestic
, This thing just feels like a big improvement. Let me give some examples. The first would be our own domain, Hive Digital. Our site has moved several times over the years as we have rebranded, and this has caused our link equity to struggle a bit and the various tools have mixed data about the domain.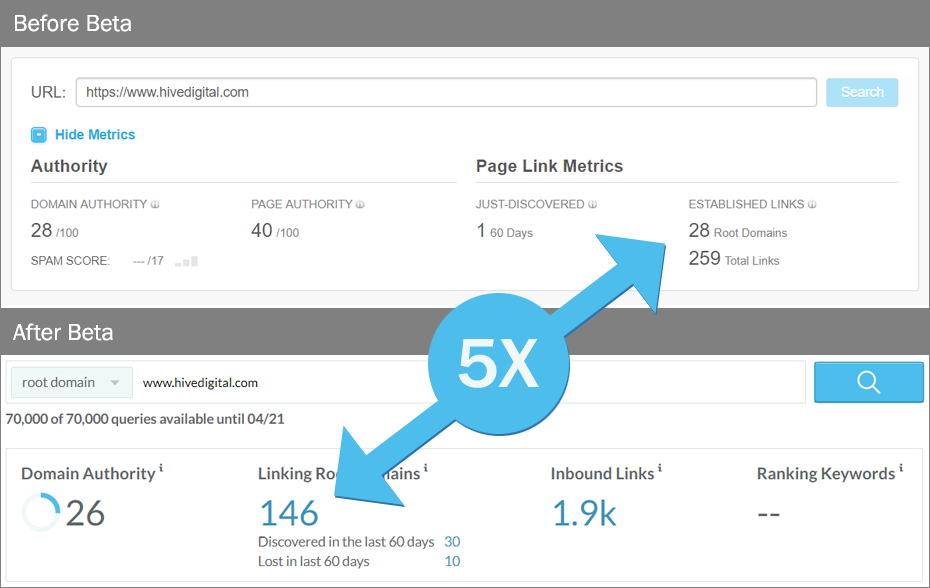 As you can see, we enjoyed a 5x increase in the number of reported Root Linking Domains. I immediately went to Majestic to compare the difference. Majestic found 1,638 referring domains. Is Moz still really that far behind? A closer look examines the real issue. Majestic counts the referring domains of 301'd domains individually, while Moz counts them just as 1. I took the time to get Moz's numbers for the old Hive Digital sites (virante.com, virante.org, angular.marketing…. I know, long story of some missteps, trying to game some alphabetical lists, etc… just buy me a beer and I'll fill you in) and found they had 176, 753 and 1200 referring domains respectively. Combined with Hive Digital, we are looking at well over 2,000 root linking domains. Of course, many of these are probably duplicates (getting links from the same domains), but it definitely looks like Moz may now actually be a competitive source with their link index (at least when it comes to
HiveDigital.com
) So, let's keep going. Let's try something much bigger.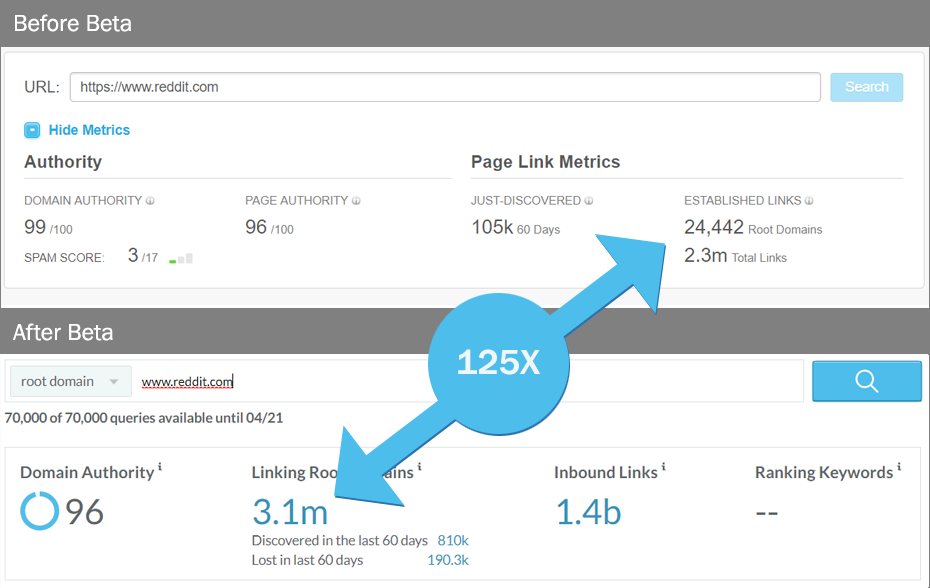 That is a big jump beating out the data from both
Majestic
and
Ahrefs
which have 1,000,000 and 1,200,000 root linking domains respectively. There are clearly some huge gains here in index size… Interestingly, this seems to have also allowed Moz the opportunity for a recalibration of Domain Authority, as we can see a "drop" has occurred in Domain Authority despite the growth in links. Poking around revealed some other cool new features..
Link Lists
This. Is. Huge. Any company that builds, tracks, or removes links will find immediate value in this feature. Much like the "keyword lists" in
Moz's Keyword Explorer
, this new feature allows you to create lists of links which will check periodically if a link is present. You can easily add links to the lists directly from Open Site Explorer or the links section of Moz Pro. I immediately came up with 3 different use cases…
Link Lists for Broken Link Building
When running a link building campaign, it can be very tedious to watch every prospect to see if a link has been established. This couldn't be any easier in the new links beta. In this case, I found a 404 page on the
American Dental Association
that would be good for a dentist doing a broken link building campaign. I pulled up the back links and added them to a link list where they will be monitored in the future.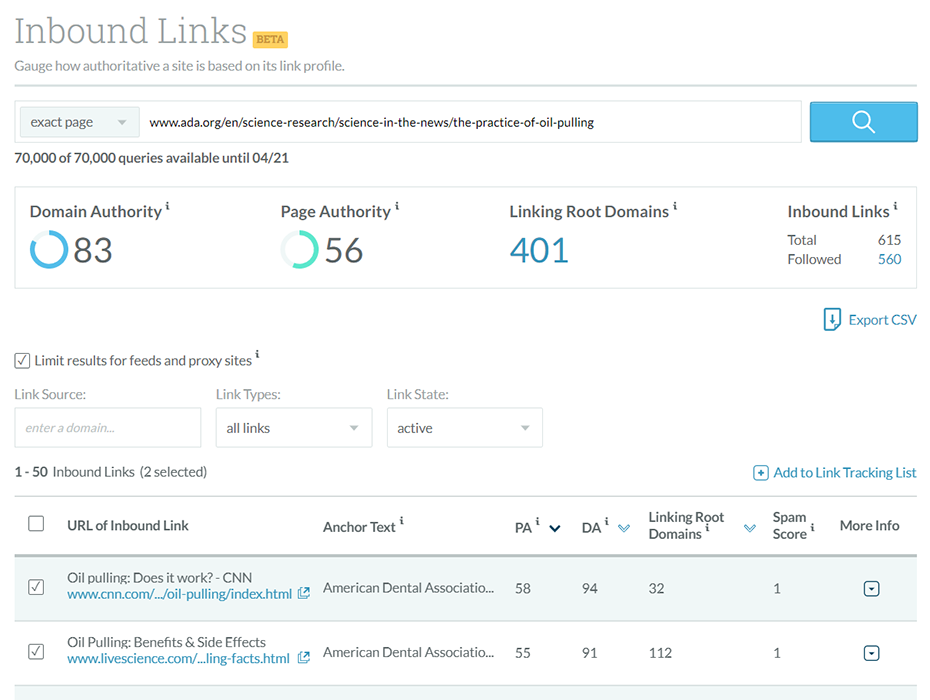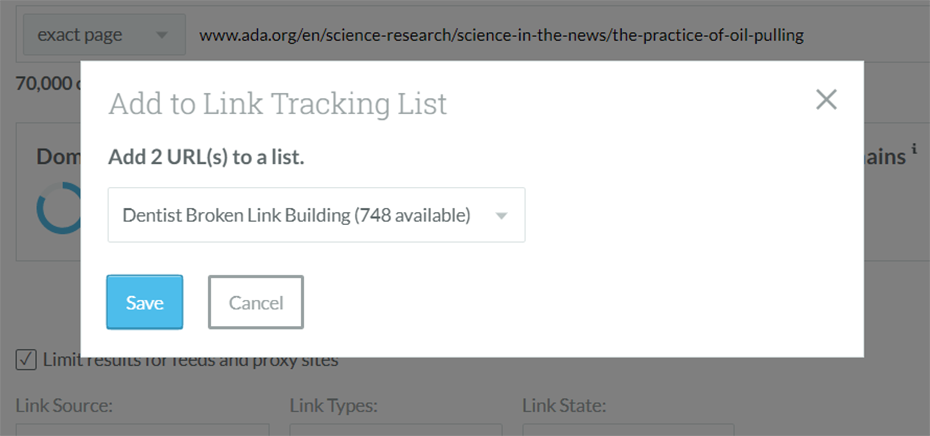 It looks like at Hive Digital's level we can only store 750 links per list, but that seems sufficient for most link building campaigns. As link builders go about their outreach, they can just check back at the link list to see when a link has been placed, as often webmasters won't respond when they have done the work.
Link Lists for Link Removal
The site below was an unfortunate victim of a parasitic hosting campaign attempting to rank for keywords like "jordan shoes". While disavow should be sufficient, some brands really don't want this stuff out there and will go for a more aggressive link removal campaign to clean up their brand and remove the noise from their backlink profile. With link lists, we can now track if those links have changed. Just add the links to a list and, as we do our outreach, we can see the link status change as links are removed.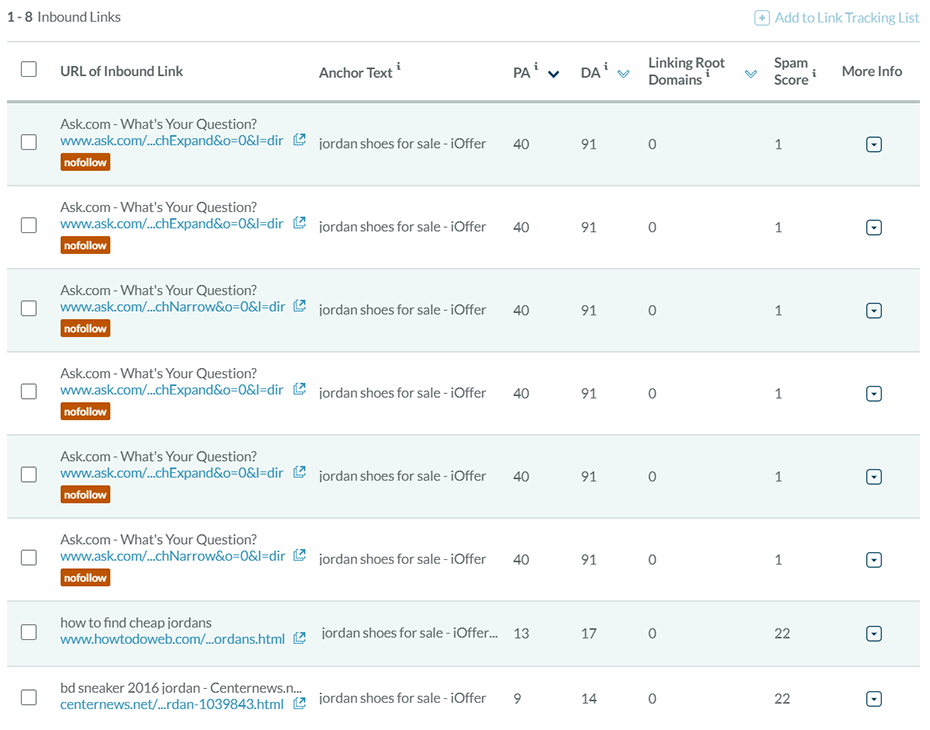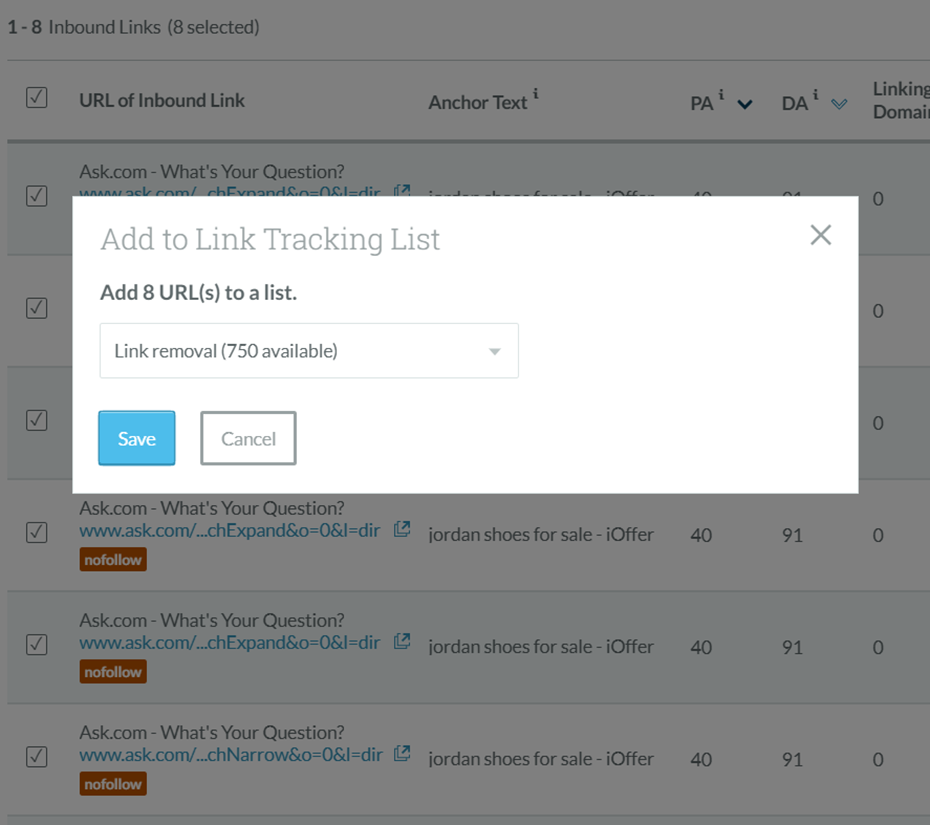 Link Tracking for Media Placements
Finally, tracking important link placements has always been an important but time consuming process for SEOs. While there are plenty of solutions out there on the market, none of them tie directly into link indexes quite as well as Moz's new link lists. Here is an example where a site has earned a number of good placements for content and wants to make sure the links and content stays live.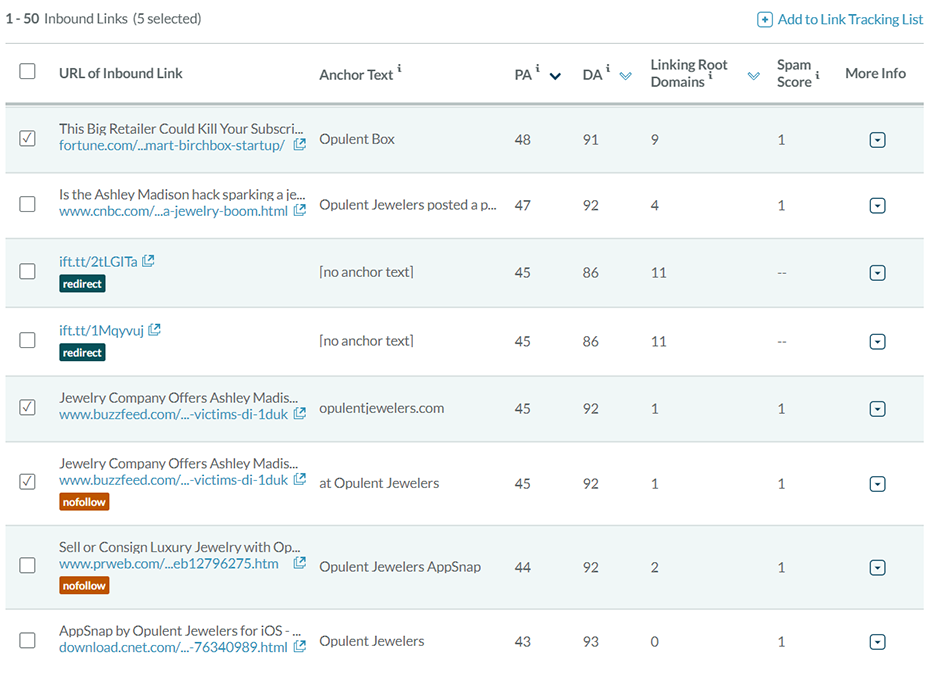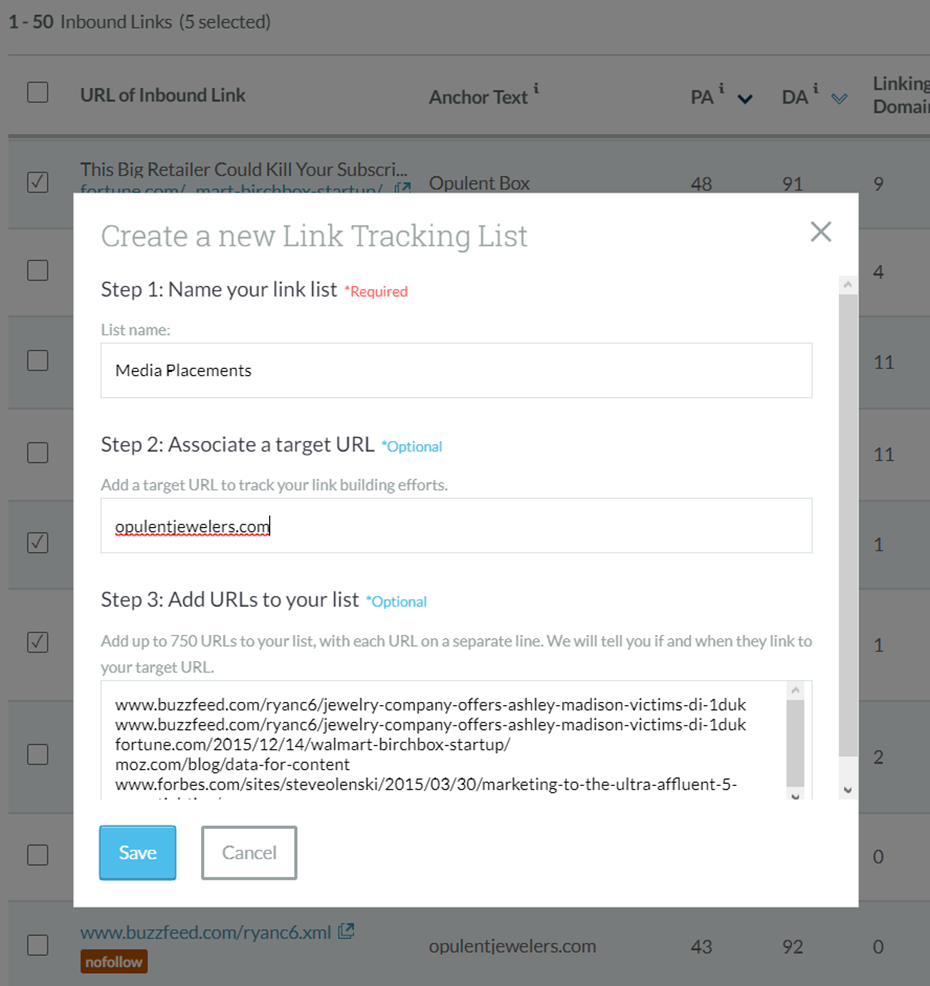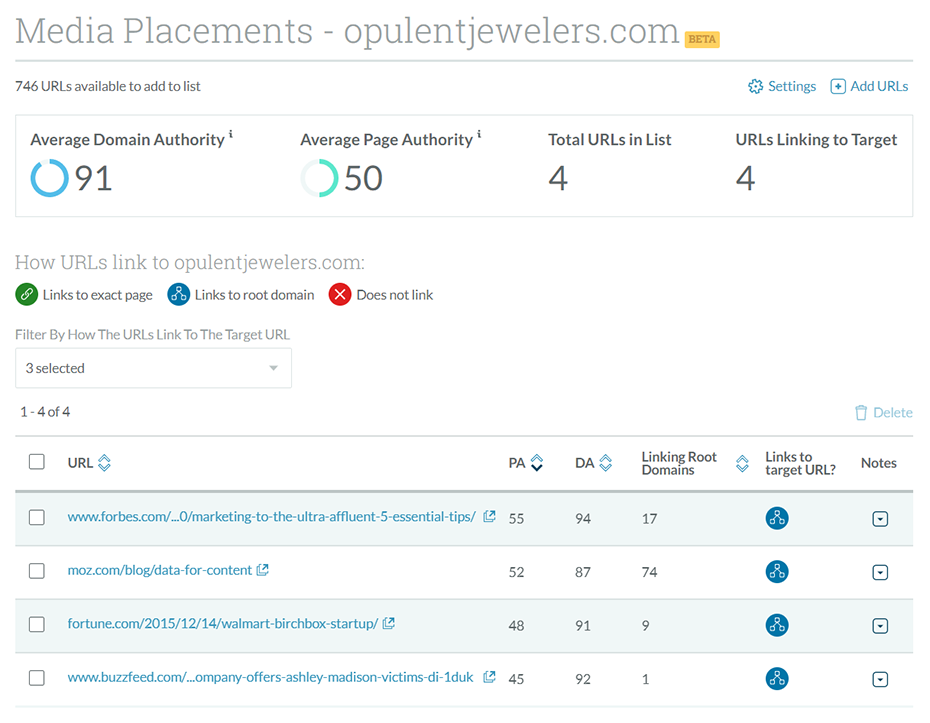 There is even a "notes" field so that our employees can keep records of where they are in the process of establishing a link. This can be especially valuable in "mentions" link building where you know the article which mentions you doesn't yet have a link.
Conclusions
I'm happy to see this improvement as I was starting to rely less on OSE data, but I think this sets them squarely back in the ring as it looks like they have really tried to come out swinging with their links beta. The data is a huge improvement compared to the old Open Site Explorer and the tool suite looks better than ever. There is still a good bit left to be desired in terms of making data easily accessible, finding link opportunities, and certain sorts which I hope come out with the full launch. It is definitely worth giving the new beta a closer look. I hope this type of product growth becomes a new norm for the team at Moz.