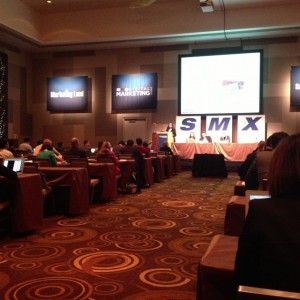 Live blog from SMX Social Media – Las Vegas – December 2012
Pinterest
Vince Blackham – Director or Social Media, 97th Floor (@vinceblackham)
Pinterest generates more referral traffic than many other social sites. Low bounce rates typically from referred traffic.
We've got a problem! New platform with gigantic growth. Time on site 6000% increase over last year. Yet small businesses are ignoring it.
Why not? Number one reason is TIME. But Pinterest can be simple and easy.
VISUAL Content is King.
Get it right the first time.
Large, visible title
Step by step instructions with the image
5000 pixels in height max
Capitalize on timely events (Twinkies disappearing). Unlike other social sites, branding can work on Pinterest.
Do holiday themed images and infographics
Community Boards can increase your reach into the millions. Find boards with the community icons. Build relationships with board owners and then ask to be let in to their boards. 9 pm EST is the best time for community board posting.
Tumblr
Amy Vernon – GM, Social Marketing, Internet Media Labs (@amyvernon)
Tumblr is a blogging platform, a social sharing site, and a community all in one. You can use it as one or all of those.Full suite of templates for blogging. Reblogging is the Tumblr method of sharing.
But the power of Tumblr is community. Community editors help surface the best content. Brands like Fox Searchlight have used Tumblr for a contest for people submitting poster designs for a movie. Winners were made into real movie posters.
82.8 million blogs on Tumblr. 67.2 million daily posts. #10 ranked site according to Quantcast.
Reddit
Brent Csutoras – Social Media Consultant, Kairay Media (@brentcsutoras)
Reddit picked up a lot of the best curators from older curation sites that failed. Great opportunity for visibility and traffic. Redditors are very socially savvy. If they like something, it will get shared all over on other social media sites.
Getting Lucky with Reddit
Know your subReddits. You have to know the lingo (upboars, TIL, tl;dr, FUUUU, IAmA). Memes: OAG, GGG, etc. Titles and descriptions are one thing; need to know how to write them. Understand the commenting styles.
Reddit.com is a Dashboard for the subReddits you're subscribed to. Anyone can form and control a subReddit.
Titles and Comments are everything! You only have one sentence to draw people to your content. Comments set the tone for a submission. MUST be grammatically correct. MUST be accurate. Should contain established Reddit formats (x-post/r/TIL)
Know the rules for subReddits. Very important. You will be scorned if you break them. Best time to submit is morning EST.
Accounts matter, but don't matter. Established account bypass some filters. Without that you might not actually be seen. To check if you've been shadow banned, go to to your account and then log out. If you see a 404 page, you've been banned. If you get banned, just create another account.
Reddit counts votes logarithmically
First 10 votes = next 100 votes. First 100 votes = next 1000 votes in weight. Downvotes hurt bad.
Don't abuse or game Reddit. They are really good at sniffing it out, and they will ban quickly. Not concerned if they kill a bunch of legit accounts to get a few spammers.