Virante Search Marketing, a full-service Internet marketing agency located in Morrisville, NC, was pleased to be a chief patron of the recent 24-Hour Telethon fundraiser for the Food Bank of Central and Eastern North Carolina, located in nearby Raleigh NC.
The telethon was a tremendous success, raising over $20,000 in contributions, plus 3000 pounds of collected food and 12,000 pounds of sweet potatoes sorted by volunteers during the event.
The telethon was webcast and hosted by Internet celebrity Greg Ng (Google+, Twitter) of FreezerBurns.
Virante was happy to make a donation to the Food Bank during the telethon, as well as help with pre-event publicity on social media. Here are Virante's Director of Social Media Marketing Mark Traphagen and Director of SEO Phil Buckley during their on air interview with Greg Ng and presentation of Virante's donation: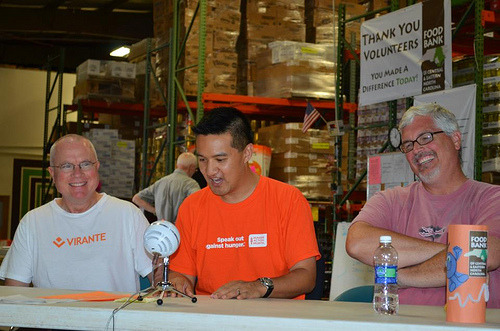 But Virante's involvement with the Food Bank goes way beyond a weekend telethon. Following in the example of our founder and owner, social entrepreneurship pioneer Ryan Allis, Virante has had an active commitment to doing good in our community. During 2012 teams of Virante employees gave volunteer time at the Food Bank at least once a month, contributing much-needed labor as well as our financial support to this important support for hungry families in our area.
Virante encourages all businesses of all sizes to contribute good to their local and global communities.