Facebook has introduced the most radical change in its user interface perhaps in its entire history. The familiar, straightforward News Feed, with its choice of either chronological updates from your friends and brands or an algorithmically-generated "Top News" is gone. In its place is a feed that is a mashup of  Top Stories and Recent Stories, with a "Ticker" alongside that shows your friends' and Pages' posts in real time.
(By the way, notice the subtle shift in nomenclature from "posts" to "stories"? This is a hint, along with the formatting of the new interface, that Facebook wants to shift from being  just where you hang out with friends to being your central source of content on the web.)
Top Stories
Top Stories are those posts from friends and Pages which Facebook thinks the user will be most interested in seeing. Top Stories are chosen through a number of criteria, including:
Relationship to the person who posted the story
Engagement (number of comments and likes)
Relevancy: How similar the story is to other stories with which you've engaged
The user can also "train" his or her Top Stories feed by marking individual stories as Top Stories. Facebook will try to include more similar stories in the Top Stories feed.
Recent Stories
Recent Stories are the most recent stories posted by friends and Pages (and people you subscribe to) at the time you open or refresh your Facebook home page. It does not update until you refresh. However, all posts being added by friends, Pages, and people you subscribe flow by in real time in a Ticker in the right column. These posts are truncated, but the user can see the full post (and comment on it or like it) by hovering her mouse over it.
Implications for Marketing on Facebook
I believe this new format has profound implications for marketing via Facebook content, mostly in the direction of more challenges. Of course increased challenge usually means increased opportunities as well, for those that meet the challenges well.
I believe that the new News Feed means that it is going to be harder than ever to get content posted from your brand's Facebook Page seen by those who Like your Page. If someone follows a lot of people and pages, the Ticker goes by too fast (mine is now moving faster than my 700-following Twitter stream). And as noted above, the Recent Stories feed is more static than it used to be. Facebook seems to be training us to stay on the page as we have loaded it. If your story is below the fold at the time it comes up in someone's Recent Stories, they might not scroll down to see it.
That means that marketers will be competing more than before for precious spots in the Top Stories feed. As noted above, engagement is key to getting there. You may want to review our post "How to Increase your Facebook Page's Fan Base" for tips on increasing engagement.
How can you tell if you are doing a good job of getting engagement from your fans? One way is the weekly Facebook Page report that is emailed to you. You want to see all green arrows in that report.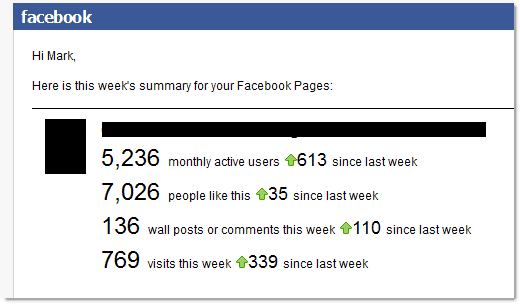 Pardon My Cliche, But Content Is King
It's not enough, however, to build up your EdgeRank (Facebook's algorithmic ranking of your Page and posts to determine what will show on users' feeds). User's have a new power over your ability to share with them. They can now tell Facebook they don't want your content in their Top Stories. They do that by clicking the little triangle that appears to the right of each post when they hover their mouse there and selecting "Unmark as Top Story." That means that if you're content isn't consistently interesting and relevant to your followers, they can begin to make you disappear without ever un-liking your page.
Takeaways
Now more than ever, work hard to build engagement with your Page and its posts. Ask your fans to like posts and comment on them.
Now more then ever, make sure you are posting interesting content that is relevant to your followers.