Google announced today an update to its iPhone app (iTunes link). The headline grabber in the social media press today has been the added ability of the app to run on the iPad (but only in iPhone mode) and the iPod Touch. Other than that the additions most listed are improvements in Huddle, improved circle add notifications, and various bug and performance fixes (I noticed right away that it updates screens more quickly).
The biggest addition I found, however, I'm not finding mentioned much, and I think it's huge. The iOS app now allows you to customize your Stream view including the selection of multiple circles at once. This has been a popular feature request among Google+ users, and we can only hope we'll see it soon in the desktop version as well. UPDATE: Upon closer examination, it is clear that selecting multiple circles does not mix them in the stream. Rather each then appears as a tab in the Stream view that you can easily swipe to see. I've updated my instructions below to reflect this.
To use this feature, go to the Streams view in your iPhone app and tap "Streams" at the top of the page.
You will be taken to a screen showing all the Circles you've defined in Google+ (along with, of course, the standard circles).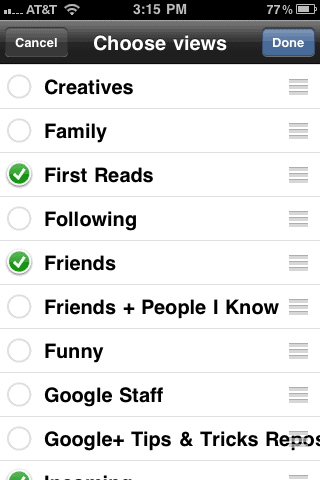 Tap the check circles in front of the Circles you want to view, click "Done," and you will now see each of those circles as a tab at the top of your stream view. Just swipe to change between selected circles. Before this, you had to go three or four taps down into the Circles section of the app to see your individual circle feeds, and changing the view was a pain.