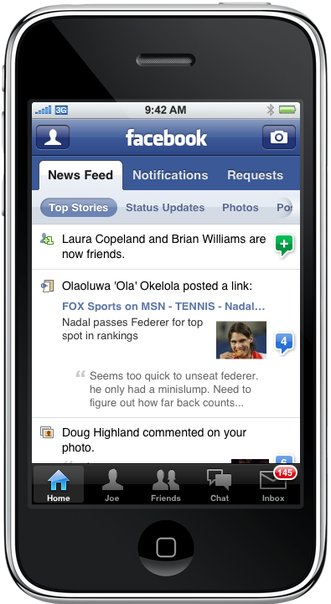 Yesterday Facebook announced an update to their popular iPhone app. The principle new goodies in this update are:
Check-in to events using Facebook Places.
See checked-in friends on a map.
Unfriend friends from within the app.
Among the many long-awaited improvements missing in this update, though, the one that I think is most perplexing is the lack of ability to share posts made by friends or Pages. Why does Facebook continue to ignore this most social of social media activities?
The ability to quickly and easily share anything you see in your News Feed on your desktop browser version of Facebook is one of its great strengths and reasons for success. If there's anything that's been overwhelmingly demonstrated to be true about the social web, it's that people want to share content with others.
Why is this still denied to Facebook app users?
There are other issues that haven't been fixed. Among them is the inability to see comments on Notes and photos, even though the app shows notifications of those comments. And tagging users and pages in status and comments would be nice, too!